Available from TODAY is the 2014 edition of A Mariners Guide to FIJI Shores & Marinas.
See where we will be shipping copies of the Guide and be sure to pick up your copy…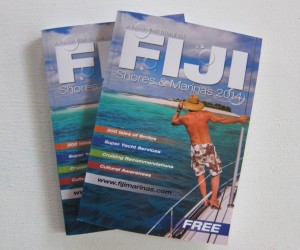 It is your one-stop-shop for all of the important, practical information you will need for inward clearance; customs, biosecurity, pratique, and the cruising permit application process. It is also full of interesting features about cruising the Fiji group, cultural awareness, interesting places to visit along the way and many other general interest stories.
FIJI Shores & Marinas is also your quick reference Guide, complete with tide tables and a comprehensive Directory of service providers you may require while exploring our beautiful nation.
Back by popular demand is the Citizen Science Section. Learn about our wonderful marine animals and make important contributions to four of our national databases by recording information about your encounter in the simple 'Sightings Form' located in the back of your Guide.
The FIJI Shores & Marinas Team have enjoyed putting this Guide together for your enjoyment and to help make your cruise around the stunning islands of Fiji even easier. We thank everyone who has provided valuable feedback throughout our first year of operation and invite you to get in touch with any suggestions you may have that will enable us to keep bringing you more of what YOU want!
We hope you enjoy your copy of A Mariners Guide to FIJI Shores & Marinas 2014.
Vinaka vaka levu!