Hosted by the Musket Cove Yacht Club and Musket Cove Island Resort & Marina, the world famous Musket Cove Regatta will run from 5th to 10th of September this year and is a must for every yacht cruising Fiji's magnificent waters.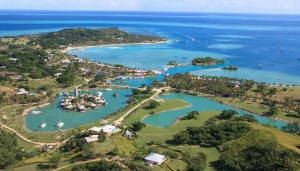 Musket Cove is well known for its sheltered yacht club, marina berths, moorings and cruising grounds and regularly attracts cruising and racing yachtsmen and women from all over our beautiful, big blue planet. Landlubbers are of course welcome to join the merrymaking and there are some great value resort accommodation packages available.
The program is simple: sail by day and party by night, the latter usually happening around the beachfront barbecue area of the yacht club. The sailing is superb – almost always under the sun and enhanced by a balmy tropical trade wind.
The Regatta begins with an official welcome on Friday the 5th at the Yacht Club. The Yacht Club, is a recently refurbished open-air facility located on its own tiny island which forms part of the Marina; anyone who sails to Musket Cove is eligible to become a member.
There is a modest entry fee of FJ$50 per adult to cover race entry and ALL social events. Previous events have included a Barefoot Gala Party, Pirate Day (grab your eye patch and Jolly Roger!) and Island Nights. For some great sailing the Annual Round Malololai Race provides thrills and great sights for both casual and  serious sailors and onlookers.
Marina and moorings spaces are limited early bookings are recommended to avoid disappointment. To make a booking or for more information, send an email to [email protected] or call 664 0805.
See you there!