Boathouse Nanuya is a unique casual dining, beverage and accommodation facility located adjacent to Nanuya Island Resort in the spectacular natural beauty of the Yasawa Islands, Fiji.
Boathouse Nanuya sits on the beachfront of the famous Blue Lagoon Bay at Nanuya Lailai Island and has its own convenience store, ATM, Sky TV (for those big sports events) with an Activities & Day Tour Centre.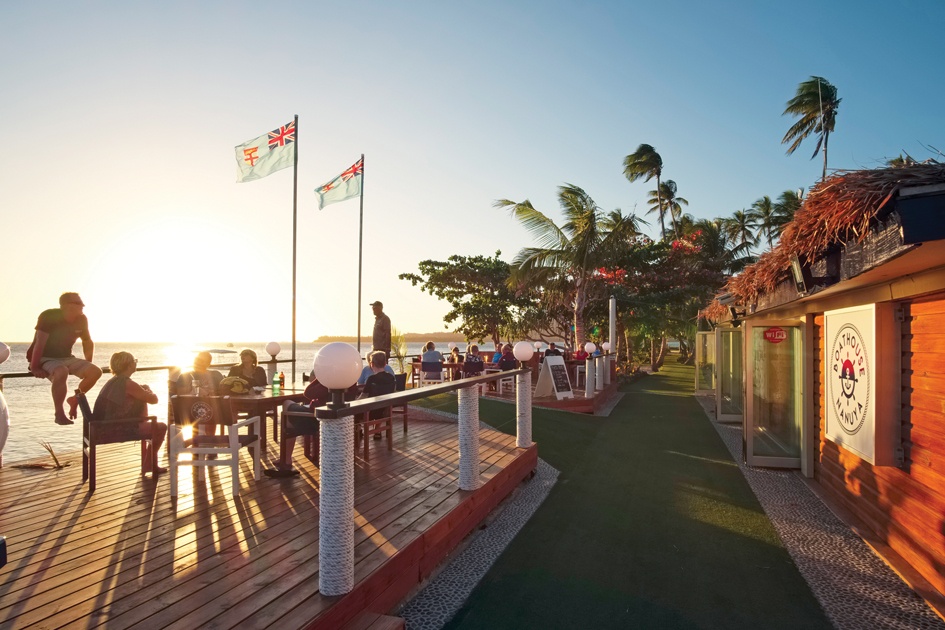 Fiji's newest social hot spot for visiting yachts
16o 56' 23.32" South | 177o 22' 13.77" East
For those wanting more than a day visit, the two level Boathouse has 12 sparkling new motel style rooms. These spacious rooms all have ensuite, ceiling fans and air-conditioning.
Ten rooms are configured as double (king bed) or twin, with five of these rooms you can add an extra person creating a triple room (one king and 1 single or 3 single beds).
Two extra-large rooms are configured with one male and one female dormitory both with 6 single beds in each dorm. (Male dorm downstairs and female dorm upstairs).
Ideal for one great night's sleep or a week or month of good times diving, fishing and experiencing the Fijian Culture.
Catering for the sole traveller, couple or a group – you will immediately feel at home. You can also stay connected (if you wish) via a high speed WiFi network boasting the largest guest bandwidth available in Fiji.
The commercial laundry is also available to guests to have their clothes laundered for a small fee!
Inside the Boathouse Bar & Restaurant the relaxed atmosphere welcomes guests to their Yasawa home.
This is a social hub for guests to meet up with like-minded travellers including visiting yachts.
Casual dining is a Boathouse specialty – from Pizzas and Burgers to homemade meat pies, all day breakfast and of course their much loved specialty of fresh local reef fish and kasava chips.
Enjoy a cold beverage after a swim and stroll along the beautiful beach front and watch the sunset over the water with old and new friends alike.​n
For more information – email [email protected]