Last weekend, the Royal Suva Yacht Club played host to the Carptrac CAT Classic Game fishing tournament.
The RSYC International Game Fishing Association president Leith Wilson said the tournament was a success given the wonderful weather and great turnout, "It was a fantastic ending to the season!" he said.
The Lilly-G, skippered by Patrick Todd won the overall competition including 'biggest catch' after angler Cameron Milican landed a 51.7kg yellow fin tuna.
Other catches of the day included a 15.8kg walu caught by Geoff Eden, and a 10.9kg wahoo by Dylan MacDonald.
Historically, the area has been a productive fishing ground for keen local and visiting anglers alike.
Geoff Eden, RSYC-IGFA Treasurer said, "The tournament was well represented. This is the last event for the season and we are happy to finish the season on a high note."
"A variety of fish were caught and we also welcomed a mix of young and experienced anglers."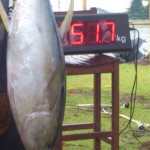 Carptrac CAT Fiji manager, Mr Ivan Lauri said they were proud to be the main sponsor for the event, and thanked CAT Australia for providing the prizes.
Be sure to keep a look out for the 2014 edition of 'A Mariner's Guide to FIJI Shores and Marinas' for details of next year's Game Fishing tournaments!