It's that time of the year again; the air becomes warm, the ground wet and a thunderstorm is never too far away. Summer in the South Pacific is synonymous with two things; Christmas and cyclones.
The first southern hemisphere tropical cyclone of the season appears to be forming in the central Indian Ocean northeast of Mauritius and while this is of no significance to our area, it is indicative of seasons changing and the shift from activity north of the equator to the southern hemisphere. It also indicates that it's time to ensure your pre-­season checks have been undertaken and your plans for responding to tropical cyclone threats are complete.
Average to below average numbers of tropical cyclones are predicted for the 2013/­2014 season (1st November 2012 to 30th April 2013); the forecast for this season is for 4 to 8 named cyclones in our region.
Predicting the risk of a tropical cyclone occurring within some specific time frame at a particular point or place is difficult to do owing to the fact that tropical cyclone formation is subject to a degree of randomness that cannot be measured beyond the time scale of the convective processes occurring within the tropics.

However, the dominant north-west to south-east tracks gives us patterned indications of increased risk of damage in the outlying north-west island groups and the north and west coasts of the main islands.
Seasonal variability of tropical cyclones also occurs based on the El Niño – Southern Oscillation cycle, with Fiji at a higher risk of more and stronger cyclones during warm phase (El Niño years) of the ENSO cycle.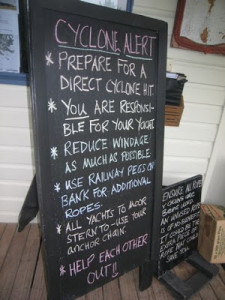 There is an increased risk of severe TCs affecting the region this season, with very high risk for Fiji. One to Two cyclones could be expected this season, of which one may reach or exceed category 3 status.
Stay tuned to NaDraki for more information as it comes! The NaDraki Team offer a detailed service for subscribers which provides accurate and up to date information.
Their experienced and knowledgeable marine forecaster has worked for the Australian Bureau of Meteorology and WNI/Oceanroutes and has over 25 years of experience with forecasting in the South Pacific.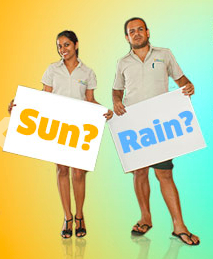 With accurate assessments of weather and climate, NaDraki Weather's specialized forecast products are designed to help make decisions to minimize costs and reduce exposure to risk and uncertainty.
Forecasts for domestic cruising start from FJ$30 a day and Route forecasts from FJ$100 per sector.
For more information, send the team an email to [email protected]
Cyclone Preparedness at Fiji's Marinas and Yacht Clubs
It is important that you read the Cyclone Preparation Requirements and Safety Procedures issued by the Marina / Yacht Club where you are moored.
As a general overview; the unique inland basin of Vuda Marina is very protected and secure with an additional wave boom that can be placed along the channel entrance to impede any kind of rough seas from entering. Port Denarau Marina is fairly well protected and offers in-ground cyclone holes.
An inner basin at Musket Cove Marina is accessible in the event of a cyclone.
From the Royal Suva Yacht Club, many yachts head to the Bay of Islands. If draft allows, Veisari Creek is recommend. If there is space available, you can pull up onto the hardstand.
The Namaka Creek in Savusavu is well sheltered from strong weather.
Of course it is your prerogative as to how to prepare your vessel for a cyclone but with advanced planning for such an occurrence, you can save yourself some valuable time once a warning has been issued.
Here to Help
Fiji consistently appears on lists of the 'Top 10 Happiest Countries' and as such, you will always find someone willing to help out in the face of adversity – or even the eye of a giant cyclone!
Around the Islands
Within the pages of the Fiji Nautical Almanac, the Fiji Hydrographic Office lists some used anchorages* that  you might like to take note of:
Lau: Mutuku Harbour, Malaka – Vanua Balavu, Fulaga, Ogea, Namuka-i-Lau.
Ovalau: Wainaloka.
Kadavu: Soso Bay, Kavala Bay, Galoa Bay.
Beqa: Malumu Bay.
Viti Levu: Bay of Islands – Suva, Nadi Bay, Namarai, Vitogo River – Lautoka.
Vanua Levu: Bua Bay, Buca Bay – Loa, Dawson Bay – Rabi, Fawn Harbour, Galoa Bay –Bua, Kubulau, Koroinasolo, Malau, Rukuruku Bay, Savusavu Bay, Tabuta, Dakuniba, Qamea Island – Naivivi.
*Please refer to your copy of the Fiji Nautical Almanac 2013 for Chart references. If you do not have a copy, click here to find out where you can make a purchase or email the hydrographic office direct to [email protected].