Arranging land-based tours around Rakiraki is easy. You can visit remote, traditional Fijian villages that today are still without road access, enjoy Horseback trips to stunning fresh waterfalls and even climb Mount Tomanivi (formerly known as Mt Victoria). Mt Tomanivi in the Nakauvadra Range is an extinct volcano that you can climb in a day. Rising to 1,323 meters (4341 feet) it is also Fiji's highest point!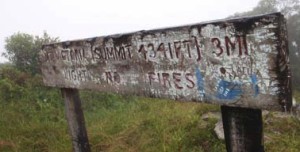 The mountain range divides the island of Viti Levu climatically into a wetter southeastern section and a dry northwestern section and is traditionally believed to be the home of the great Fijian snake-god, Degei – creator of all the islands. The range is deemed sacred to many here in Fiji and as such so we rarely go there.
Mysterious Mountain Find
Around 30 years ago, a series of thirteen large stones in circular formation were accidentally discovered, hidden deep in the rainforest atop a steep ridge of the sacred Nakauvadra Range. Not quite as dramatic as Stonehenge, but culturally important to the people of Ra and throughout the country. Remains found on the site were dated to show burials took place there as early as 3000 BC. But that is not all…the site overlooks a series of caves, once of which displays a series of etched drawings.
In order to make a visit to the site, it is necessary to seek the permission of the 'Bete'. A Bete is a traditional priest who linked the people to the spirit Gods – both good and bad. Take a trip to Vatukacevaceva and locate the Turaga Ni Koro. You should present your Sevusevu and explain your intent. He will take you to meet the Bete who will either permit or prevent your visit to the site.
It takes around six hours of serious hiking to get to the site. Ponder the meaning of the formation, try to decipher the cave etchings and contemplate how on earth the stones were hauled up the mountain! While our cannibal past is something we are famed for, could this indicate a far deeper and more spiritually connected ancestry?
Speaking of cannibals…
Udre udre's Tomb
Along the road to Lautoka, about 100m west of the Vaileka turnoff, keep your eyes peeled for Udre Udre's Tomb.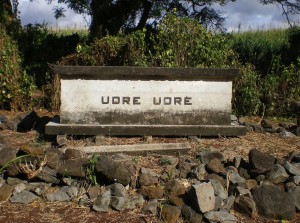 Ratu Udre Udre was Fiji's most notorious (and reputedly the world's most prolific) cannibal and tribal chief who reined terror throughout the region over 200 years ago. He was the last known cannibal in Fiji. His body is buried here and each one of the 872 stones surrounding his neatly kept tomb is said to represent one of his human dinners!