Entering into Nadi Bay, you will be able to see a large coastal development at Wailoaloa, nestled between Port Denarau and Naisoso Island. It is part of an integrated development by the Fantasy Group led by managing director/chief executive Abbas Ali, which sees unproductive swampland, transformed into a mariners dream!
The entrance to the aptly named 'Fantasy Island' is through a 500 meter long, 80 meter wide channel with a minimum depth of 3 meters at low tide, all protected by the barrier reef some fifteen kilometers away.
In line with the booming yacht and super yacht industry here in Fiji, developers have included plans for a Yacht Club within the 5 acre sheltered harbour. Built to international standards, the Yacht Club and Marina area will be separate from the larger commercial port and provide services you require such as water, power and a fuel dock.
The design provides up to 100 secure stern-to wall moorings with additional berths and jetty area. The harbour will also have pontoon moorings and swing moorings all available for lease. Bathrooms and on-shore toilet facilities will be available in addition to laundry and storage areas. There will be a large supermarket in the commercial marina for provisioning which is within walking distance.
A large capacity warehouse complete with integrated goods handling equipment will increase loading speeds. The warehouse will provide sections to make load amalgamation simpler and more secure. For yachts, there will be a storage and repair yard housing mechanical repair and maintenance services. Road access to the Nadi International Airport makes 'Fantasy' a very desirable location. Accommodation will be available for people who want to spend some time on terra firma, as well as providing a convenient pick up/ drop off point for crew and guests.
The Development
There are in fact two projects, Fantasy Island and Juxta Beach; developed in total synergy and incorporating one fully integrated community and resort. The first phase of the five stage development is complete providing an upmarket gated residential subdivision. Planned for completion in 2015, this exciting marina development will be 4 times the size of Denarau Island Marina.
The company has so far invested well over 21 million dollars on infrastructure and earthworks. Services such as water, roads, sewerage, telecommunications and electricity are already in place.
Fantasy Island and Juxta Beach are in close proximity to schools, shopping centres, restaurants and medical services; it is attractive to a range of people including vessel owners for the easy ocean access. With residential homes or holiday rental villas backing on to the series of canals and waterways, tying up to your own backyard dock will be easy.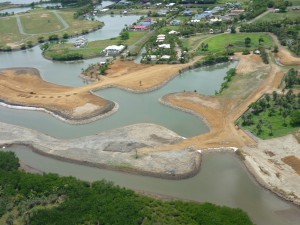 Fantasy Island History
Fantasy Island has a unique traditional history. Legends dating back several hundred years tell of the area of swamp and marshland being the site where indigenous Fijians from the highlands would come to the shore line to make sea salt. They built a large bure in which to stay while making the salt. Interestingly during excavation of the area, burnt clay pots and several pieces of pottery were found at the site. In homage to this, the developers have planned a 'Salt-House' Eco-resort set amongst an established sub tropical coastal forest where this traditional practice will be revived.