If you are looking for crew – to or from Fiji – look no further!
FijiMarinas.com has recently launched a Directory for experienced and qualified crew, currently looking for work and aim to connect yacht owners and crew together through this service.
Should you find yourself minus a chef or a deck hand short, don't panic, simply check the Directory under 'Yacht Crew' and see who is available to fill the spot.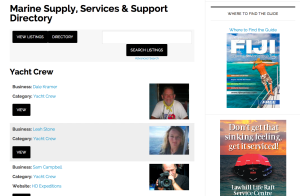 Likewise, if you are looking to join a crew this season, just drop the Fiji Marinas team an email and we will send you the easy application form to complete.
Yacht owners are able to make direct contact with potential crew that meet their criteria via the site to request any additional information, references or to arrange an interview.
With the official start of the season in Fiji only weeks away, FijiMarinas.com is pleased to announce this FREE service!