In celebration of their 40th Anniversary, the Oyster Team came up with the spectacular idea of the first ever Oyster World Rally. Oyster Marine was founded in 1973 and is one of the UK's most successful builders of large series produced cruising yachts.
Some of the internationally based Oyster owners who joined the rally had already been planning to sail around the world, whilst others viewed it as a once-in-a-lifetime opportunity to complete a circumnavigation with the reassurance of being part of a large fleet of Oysters, with service and support from Oyster's technical team.
Setting sail from English Harbour in Antigua on Sunday 6th January 2013, the fleet of 28 magnificent examples of the Oyster range, crewed by owners and their guests embarked on the 16-month odyssey.
The Oyster World Rally has been a two-year project led by Debbie Johnson – Event Manager and Eddie Scougall – Technical Manager. Both have completed circumnavigations on board Oyster yachts and their wealth of experience makes them the ideal team to support owners on this journey of a lifetime. In organizing the rally, they have been able to plan a route that would be virtually impossible for any yacht to undergo independently.
Copies of A Mariners Guide to FIJI Shores & Marinas will be presented to the fleet in Tonga before they set sail for Fiji. "I wish this had been available when we were researching our rally stop in Fiji!" said Debbie of the fijimarinas.com website.
The circumnavigation sees participants visit 31 magical destinations, before joining up for a finale party with the Oyster Caribbean Regatta in April 2014 in Antigua.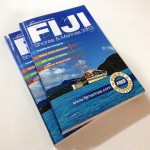 The fleet recently entered into the South Pacific, and after an enjoyable trade wind sail arrived in the Marquesas. From here, they will sail south to visit Bora Bora, Moorea and Tahiti. The impressive fleet is due to arrive in Fiji on June 10th 2013 where a temporary international yacht clearance has been arranged on the island of Vanua Balavu in northern Lau.
In country lead coordinators are John Philp and David Jamieson. Mr Philp explained "The Rally is a great opportunity for Fiji given that the Oyster brand is renowned for it's quality and performance.
The Fijian yachting tourism industry has put in a fair bit of work partnering with Tourism Fiji and the Lau Provincial Council to promote and facilitate their visit beginning with Vanuabalavu Island in the Lau Group. For some time now a group of stakeholders comprising representatives from the above organizations, in addition to some private property owners in northern Lau, have been working on a project called Lau 2020."
He continued, "The Lau group of islands one of Fiji's greatest treasures and could be a huge attraction for yachting tourism. Lau is also one of Fiji's most sensitive areas with a pristine environment and a place where iTaukei culture and traditions have been preserved; and should be preserved in the future. The people of Lau could reap major financial benefits from yachting tourism as well improving infrastructure and the viability of air and sea transportation to the group.
The Oyster World Rally is a unique event that few boat builders could put together, and is a great fit with the Lau 2020 project."
The participants can look forward to experiencing a traditional Fijian welcome once they reach our shores, and to enjoying our world-renowned Fijian hospitality. With an abundance of natural beauty and spectacular sights to behold, we are certain our visitors will have a wonderful stay.
From the Pacific, the fleet will head to the Great Barrier Reef, round the top of Australia, pausing to party in Bali before heading west for Cape Town in time for a South African Christmas. After this, the fleet will head on to Carnival in Brazil and then on to Antigua in April 2014 where the celebrations begin to mark the finish of the first Oyster World Rally.
Oyster Yachts are pleased to announce that the next Oyster World Rally will be setting off from the Caribbean in January 2016. For further details please contact [email protected]
We wish voyagers a safe and enjoyable adventure and look forward to welcoming them to our shores in June!