17o  45' 42" South  |  177o  09' 30" East
The luxury hospitality sector is waiting in eager anticipation as the Vunabaka development on Fiji's Malolo Island nears completion, its opening set for year end 2016.
The FJD$350m Vunabaka marina and beachfront development is a luxury residential and resort development. It's designed around superb marina, ocean and pristine beachfront villa sites, all anchored with  a Luxury Boutique Hotel at its center.

The development hosts everything you could want in a tropical island paradise – luxurious facilities, stunning sandy beach, two world class marinas, varied elevation and an original rainforest. It's oriented to capture dazzling sunsets and is protected from trade winds by an amphitheatre-like setting.
Called a marina-based community, this development has been designed from the get-go for those
who are both ocean/beach enthusiasts and devotees of ultimate luxury.  A select number of lots are still available for purchase.
The resort boasts a pristine white sand beach created with a swimming channel that allows for all-tide swimming – and with proximity to world-class surfing, fishing, diving and boating spots.
Construction of the Luxury Boutique Hotel and first 20 privately-owned villas will be complete by end 2016. The Vunabaka development team is in the final stages of negotiation with the international Six Senses Hotels Resorts Spa group to manage the boutique resort.
The boutique resort has already secured renowned chef Ihaka Peri – already known as one of the hospitality Industry's premier up and coming  chefs.  Chef Peri's approach to cooking follows a holistic sustainable philosophy, which will use Vunabaka's own home grown produce.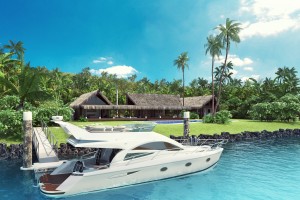 Expert hotelier Neil Palmer recently joined the development group as a shareholder, bringing his extensive knowledge of the global hotel industry to the development.
Palmer is Owner/CEO of hospitality services consultants Elements and has over 25 years' experience with Starwood Hotels & Resorts, and a further 4 years as CEO and co-owner of premium luxury company Per AQUUM Retreats & Resorts.
Vunabaka was designed by renowned New Zealand architect Richard Priest, ensuring that as well as being a luxury resort experience it would also be committed to the local Fijian cultural aesthetic and have minimal impact on the environment.
It is this combination of attention to detail, focus on luxury and true commitment to the Fijian environment that has made Vunabaka one of the most highly anticipated luxury developments seen in the South Pacific.
For more information email [email protected] or visit www.vunabaka.com