Fiji is home to five of the 7 species of sea turtle found in the world's ocean. While cruising our waters, we are sure you will encounter at least one.
Unless you have been asleep for the past 20 years, you will know that sea turtle populations worldwide are in real danger of being wiped out. Here in Fiji, we are doing all we can to prevent that from happening and with a little help from our friends (YOU!) we think we can provide a safe haven in which they can continue to breed.
While cruising the islands of Fiji, you have the unique opportunity provide valuable information on nesting sites to the Department of Fisheries and the World Wildlife Fund (WWF). Just download the TurtleNestingBeachSightingsForm, read the information below and email us your sighting information – Simple! This will help the government ascertain a clear picture of nesting sites throughout the islands, which makes possible the prioritisation of communities with which to work toward the protection of these prehistoric animals.
Nesting
Once she has reached the breeding age of 12 – 20 years old, a mature mamma turtle will ride in on the night's high tide to find a nice safe spot on the beach to dig her nest. After laying her precious soft- shelled eggs, she re-fills the nest and smoothes the surface until it is relatively undetectable.
As she makes her way back down the beach to swim off into the blue, she will leave tracks that resemble tractor tire markings in the sand. An early morning beach walk is when you will most likely come across turtle tracks.
The incubation period lasts for about two months, after which time, all the eggs hatch together. The inaugural journey of just-hatched sea turtles sees them making a mad dash toward the relative safety of the ocean. Unfortunately, the odds are stacked against turtles from day one; birds swoop and land mammals hunt the hatchlings, reducing the number that make it from the nest to the ocean by as much as 80%.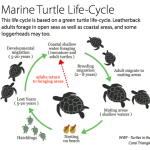 According to research, only about 25% of those that make it to the ocean are likely to survive their first year. Worse still, research also indicates that only one out of every 100 hatched eggs will reach their full adult breeding size.
Recording Your Responsible Interactions with Fiji's Sea Turtles
Data on nesting sites around Fiji is extremely important, even if you have no idea of the species you are looking at; the fact that there is a nesting site at a given location is still valuable information. The Department of Fisheries works closely with WWF Pacific's Fiji Program toward turtle conservation and the information you provide will go a long way toward assisting these efforts.
A Guide to Sea Turtle Interactions
NESTING: Always remain at least 5 meters away from a nesting turtle, stay calm, quiet and refrain from shining torches toward her or using flash photography. Just think how grumpy a woman in labour can be…. mumma turtle does not like an audience either. Definitely do not disturb the nest area once she has left.
Please try to identify the species, estimate the length of her shell (carapace) and if possible, take photos (remember – no flash!).
HATCHLINGS: If you come across tiny hatchlings breaking free from sandy nests, seeming to struggle toward the waters edge, please do not pick them up however tempting it may be. It is important that they are allowed to crawl down the beach as this process enables them to create a mental map using the Earth's magnetic field. Once matured, a female turtle will navigate thousands of miles of ocean to return the very beach where she hatched to lay her own eggs.
Taking photos of hatchlings making their way down the beach along with an estimate of numbers is extremely helpful.
TURTLE TRACKS: If you stumble upon what you believe may be turtle tracks, and happen to have your camera handy, photos of these are also useful as different species leave slightly different tracks.
The Law Relating to Turtles in Fiji
As a delicacy, sea turtles have been consumed throughout history in the islands of Fiji. These animals have immeasurable worth as a cultural asset, which is a central element in Fiji's respective customs and beliefs. In the example of a chiefly function, local fishermen were required to present turtles to their chief as a sign of respect – it was their obligation as demanded by an age-old tradition.
However, we are adapting our culture in light of the worldwide demise of these reptiles. The movement is catching; communities are recognizing the decline in numbers and are actively working with government to protect them.
The Fisheries Department of Fiji has implemented a national moratorium, in place until December 31st 2018 that prohibits harassing, taking or killing of turtles or their eggs.
So as you can see, the role you can play in helping us advance our efforts is significant.
Vinaka vakalevu!