Whether you are anchored in the shelter of Malumu Bay, in the mouth of the Qaraniqio River, at Yanuca Island or even at the Royal Suva Yacht Club, a short boat ride to the mainland or a 45 minute drive along the coast from Suva will put you on the doorstep of Fiji's reputed Adventure Capital.
Flanked by lush, jungle-clad hills on one side, and a fringing reef that dramatically drops into the deep blue of the Beqa Channel on the other, Pacific Harbour is home to some of Fiji's most sought-after experiences – you know, the ones you cannot wait to call home to brag about!
Pacific Harbour is already well known as the 'Adventure Capital of Fiji'. It is here you can dive with big bull and tiger sharks (without a cage!), or explore wrecks and colourful soft coral reefs, zip line through the rainforest canopy, whitewater raft down rapid rivers with spectacular waterfall back drops, jet ski out to deserted islands to picnic, freedive and spearfish, drive off-road buggies, game fish, surf, ride a banana boat, ride a horse along the beach, kayak in lakes, rivers, or the ocean, go snorkeling, swimming in waterfalls, AND play on the Pearl South Pacific Hotel's championship golf course.
Club Oceanus
A little farther up into the river mouth from the Pearl Resort Marina Development, Club Oceanus serves as a small boat marina with limited space for long term berthing. It is a popular location as a transit point. There is generally no charge for boats to tie up alongside for loading/unloading – the well stocked bar and delicious menu may even entice you to take a seat and relax for a meal. You will also find Wi-Fi and water available. Just off the main Queens Highway, delivery vehicles can enter via the resorts service access and reverse close to the dock. Super yachts frequently make use of this facility to receive deliveries direct to the awaiting tender. T: 345 0498
Sea Fiji Reefs
Brand new and launching in
early 2014 is MV Sea Venture. This Looker 350 is a
revolutionary and innovative 35ft glass bottom
boat, the hydrofoil wave piercing system allows
the vessel to literally fly along the surface of
the Beqa Lagoon at speeds of up to 40knots.
Carrying up to 30 passengers, the large 2x3m
optical spheroid viewing port constructed using
modified acrylic enables crystal clear views of
the underwater world. Even at night, the vessel retains safe operation by using the latest digital GPS, radar and sonar navigation equipment as the ultra hi-output LED's illuminate the reef.  T: 940 4606 or 992 3606
Kila Eco-Adventure Park
Kila Eco-Adventure Park features 10 kilometers of jungle paths, waterfalls, picnic shelters and Fiji's only linear botanic garden. In addition to this, it is an adrenalin junkies playground packed with a 12 meter high giant swing, rope courses, abseiling and 440m of scenic Zip Lining.  T: 331 7454
Terra Trek
Jump behind the wheel of a two seater off-road buggy and hoon off into the lush mountain terrain of Pacific Harbour. Arriving at a beautiful waterfall and clear fresh pool, you can pause to enjoy lunch and have a dip to cool off. T: 928 2397 or 999 3675
Jungle Skirmish
Also new for 2014 is beachside jungle Laser Tag. Split into teams and run amuck in the gaming arena consisting of a base camp, bunkers, bridges & jungle trees to climb. This will bring out the kid in even the most serious of person! T: 992 6855 or 936 7622
JetSki Safari
Visit Beqa Island
on a different type of vessel! Jump on
a modern Yamaha VX700 jetski and let
your inner James Bond come out to play
as you whizz over the calm waters of the Beqa Lagoon. Stop at a secluded beach or circumnavigate the entire island – the choice is yours! T: 345 0933
Rivers Fiji
Beyond the white sand beaches and turqoise waters of Fiji, as you head into the depths of Fiji's tropical rain forest, you will hear squeals of delight from unsuspecting visitors to Fiji as the Rivers Fiji team guide them through exciting class II-III whitewater, explore hidden grottoes and enjoy the numerous waterfalls that spill into the remarkable canyons of the Namosi
 Valley, just outside of Pacific Harbour. With several tours on offer,
and a choice of single kayak or group raft ride, there is something
fun for every group or individual looking for something a little
different to what Fiji is traditionally recognised for. T: 345 0147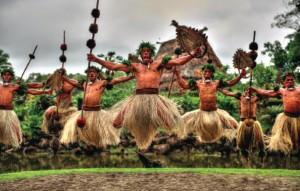 If all that is not enough, in the heart of Pacific Harbour, you will find the Arts Village for a spot of shopping where you can pick up the essentials, souvenirs and a delicious meal in some of Fiji's top restaurants. The Tiki Pool & Bar is also located here, a novelty beach style pool complete with an 18m waterslide and a large swim up bar. The Cultural Centre is just behind the Arts Village where you can witness the reenactment of the way Fiji's ancestors once lived. You can watch Fijian warriors in traditional dress re-enact a mock battle of an ancestral tribal war. Fire walking provides the grand finale to the show and is not to be missed!