Under Customs law here in Fiji, it is a requirement that the Master of the vessel gives a minimum of 48 hours notification to Customs prior to arrival in Fiji. It is also necessary to provide this same 48 hour notice period to Ports Authority, Department of Immigration, Health and Biosecurity.
We have many reputable and experienced Yacht and Super Yacht Agents in Fiji who will navigate the way through the formalities of cruising to and around the country on your behalf. If however, you have chosen not to use such a service, you will need to read through all of the clearance information listed below, or in the white pages of your copy of 'A Mariners Guide to FIJI Shores & Marinas'
You can download some of the necessary clearance paperwork here to complete  prior to arrival.
Ports of Entry
Regulations for Immigration stipulate that you must be cleared within 24 hours of arrival into Fiji waters. The Ports of Entry, through which you must arrive, are located in Suva, Lautoka, Savusavu, Levuka and Rotuma. Vuda Marina now falls under the Lautoka Wharf Boundary and clearance can also be made here during shedulled hours. Port Denarau Marina can be used as sufferance clearance ports by prior application only which can be made though the Marina office no less than 48 hours in advance.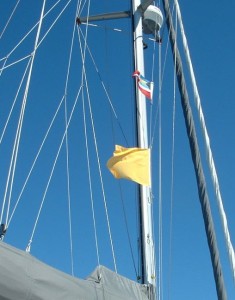 Upon reaching the pilot station, you will need to contact Port Control using VHF Channel 16 to request entry into port. It is also necessary to inform Suva Radio 3DP to direct an arrival notification request to Health Quarantine for radio pratique or physical boarding by Health officials, depending on each circumstance. Unless and until Health Quarantine has cleared the vessel, the yacht must display the 'Q' flag at the main mast and all crew must remain on board.
Cruising Permits
You are required to obtain a Cruising Permit for Fiji from the iTaukei Affairs Board. Whether you decide to make the trip to the iTaukei offices in Lautoka or Suva yourself, or contract an agent to do this for you, the purpose of this permit is to allow bona fide visiting yachts to cruise around the Fiji Islands.
Departing Fiji by Yacht
You must advise Customs at least 24 hours prior to your expected departure and then berth your yacht in a port of entry/exit.
You are required by officials to sail your yacht to the Port where you wish to apply for departure clearance. The Department of Immigration  also requires prior notice so that they are ready to authorize your departure and once cleared, it is expected that you will depart the port immediately.
Maritime Surveillance in Fiji
While at sea, the RFMF Naval division is responsible for maritime surveillance and represents the border control agencies.