Malolo Lailai was an uninhabited island that was originally sold by a chief of Nadroga – Ratu Kini in 1872, to John Thomson who intended to plant cotton. The island was eventually sold to an American, Louis Armstrong (not of 'Wonderful World' fame although, had that Louis Armstrong been here, Fiji would have definitely been the inspiration for the song!).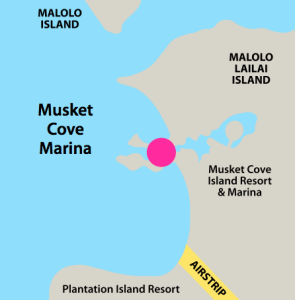 A few owners later, it was eventually sold in the late 60's to three men, Richard Smith, Regge Raffe & Sir Ian MacFarlane who renamed Malolo Lailai to Leeward Island. The gentlemen decided to individually manage portions of the island. By then an airstrip had been built which ran as a boundary.
Richard (Dick) Smith began building Musket Cove, which was then casually known as 'Dick's Place' and on the 3rd October 1976, Musket Cove Island Resort was born with 400 hundred acres used for an organic farm and the continuation of the coconut plantation to supply the resort.
Today, Musket Cove stands as Fiji's oldest resort company boasting a diverse range of accommodation choices with 55 Bures & Villas, a purpose built day spa, fully licensed bars, restaurants and… a Marina!
The Marina
Musket Cove provides an ideal gateway to Fiji's spectacular cruising grounds. Marina berths and moorings are available or you can drop anchor in the tranquil bay. Those who arrive by yacht can become lifelong members of the Musket Cove Yacht Club for a nominal fee. This allows the privilege of using the resort facilities (providing proper conduct) and also offers discount on the ferry service.
The nearest port of entry is Vuda Marina Fiji. However, during the Regatta Week, Customs and Immigration are present at the marina for outward clearance. The Musket Cove Yacht Club is famous for hosting and organizing the annual Fiji Regatta Week and currently has over 16,000 lifetime members.
Docking facilities in the marina are in a dredged basin. Moorings outside of the marina are also available. There is a dinghy dock and a small number of berths available on the club pontoon, although these need to be booked in advance.
Safety
A small inner basin is accessible in the event of a cyclone.
Visitor Attractions
The island boasts many secluded beaches where you can soak up the sun or laze around in the shade and enjoy the peace and tranquility of the island. There is an extensive choice of water activities as well as a five- star PADI Dive facility, offering courses and a schedule of daily dives. Game fishing, speedboat island hops, water skiing and wake boarding are also on offer. You are welcome to use the Resorts café and restaurant facilities.
"Dick's Place"
Open daily for breakfast, lunch and dinner. You can choose to dine by the pool or under the stars. An extensive wine menu and island string band accompanies the a la carte menu and theme nights. The menu brings together freshly prepared local delicacies.
Linked to the resort by the marina walkway, the MCYC bar is a 'sand between the toes' beach bar with a relaxed and casual atmosphere. Local spirits, beer and wines are at yacht club prices.
The lagoon side Marina Coffee Cove serves pizza, light meals, snacks, freshly baked pastries and juices throughout the day and early evening.
The island has DIY BBQ facilities for those wanting a very informal dining experience. You can cook your own feast by ordering a pre-packed BBQ selection from the Marina Coffee Cove. The Trader Shop stocks a wide variety of groceries, fresh fruit and vegetables, meats, ice and snack foods. Indulge in a full range of beauty treatments and massages by internationally trained staff at Mandara Spa.
Accommodation
Malolo Lailai is home to Musket Cove Island Resort, Plantation Island Resort and the adult only boutique Lomani Island Resort.
Getting Around
The marina offers access to an extensive range of ferry, water taxi and cruise operators catering to day trips and Island Resort transfers.
Private Mail Bag 0352, Nadi Airport, Fiji

T: +679 666 2215 | F: +679 666 2633

mcy…@musketcovefiji.com

VHF Channel 64, 68

17° 4.27 South | 177° 11.45 East 67