17°18.793' South | 178°13.433 East
Rakiraki in the province of Ra is a very traditional region. Sailing along the Sunshine Coast from Lautoka to Rakiraki makes for a beautiful voyage.
There is a clearly defined route on most navigational charts and electronic charts showing the inside passage from Lautoka all the way to Nananu-i-Ra, which is a regularly travelled route by local vessels. Alternatively, you can come in the Nananu-i-Ra passage that is a well-marked channel and come around the west end of the island.

As a warning, there are many unmarked bommies in the area and so these are really daylight passages that should always be approached with caution.
The area marks the start of the Vatu-i-Ra channel and some seriously world-class diving. So good is the diving here, that the world famous Siren Fleet has chosen to base S/Y Fiji Siren here at the Volivoli Beach Resort.
Getting Around
The Kings Road
 between Rakiraki and Lautoka and Kings [turning into] Queens Road between Rakiraki and Suva is well serviced by public transport. As such, couriering parts and/or supplies from either direction is straightforward.
Provisioning
You can easily arrange a round trip taxi journey to Rakiraki Town for provisioning. Better still, the resorts listed below are happy to do this for you! Within the town itself you will find a great local fruit and veggie market and a selection of supermarkets and hardware stores. While you wont find a chandlery here, items can easily be couriered from Lautoka, Nadi or Suva (see Directory).
Bunkering and water fills at Ellington Wharf
17°20.243 S | 178°13.135 E
Using your own 20 litre containers, or borrowing from the resort, you can use the Safari Lodge Mainland Base @ Ellington Wharf to refuel (Diesel / Pre-mix / Super) and also stock up on fresh water. A simple phone call to 948 8888 or 669 3333 or 628 3332 will enable you to make the necessary arrangements.
Accommodation & Facilities
Safari Island Lodge
17'17"914 South | 178'13'361 East
Located at Nananu-i-ra, Safari Lodge is an adventure watersport specialist, here you can try or practice everything from Kitesurfing, Windsurfing, SUPing, Waterskiing and Wake boarding. You can have fun playing in this sheltered bay for as long as you like, taking lessons in your chosen water-sport, or renting the gear to hone your skills!
There is a PADI 5 Star Dive Centre – Safari Lodge Divers, located at the resort where you can fill your tanks or join them on a guided Dive Trip or even certify your crew and/or guests with a PADI Dive Course.
The Yacht lovin' team at Safari Lodge will deliver bags of ice to your boat, provide provisioning, dispose of your rubbish responsibly and even act as your personal water taxi to the mainland or to the island Resort to make use of their restaurant and bar (which by the way, is open 'til midnight!). Start a Tab and enjoy the laid back atmosphere! Land transfers to and from Rakiraki Town for provisioning or Nadi International Airport for crew/guest pick ups are also available via Safari Lodge vans based at Ellington Wharf. Your guests will be met here by the Resort boat and delivered to your vessel.
Easy access anchorages:
 17'18"723 South | 178'13"750 East    and      17'18"575 South | 178'13"639 East
T: 628 3332 | 948 8888
E: [email protected]
Wananavu
17°19'4.23 South | 178°12'14.63 East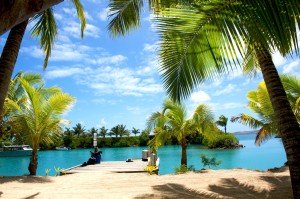 Whether you anchor off the resort in calmer weather or around the corner for shelter, a simple courtesy call to the resort and you are welcome to make use of the many onsite luxuries. The resort runs a well stocked Bar, and offers a delicious all day menu. If you are feeling active, you can book a tennis court, explore the coastline by kayak, or jump in the fresh water pool. If the resort is not too busy – they will even launder your clothes and linen! The resort has pure desalinated water that you are welcome to fill from in exchange of a small fee.
Dive Wananavu has one of the only Nitrox Compressors in Fiji, you can choose to dive with the experienced team, or simply fill your tanks ready to head into the Vatu-i-Ra Channel to explore the world-class reefs.
With a secure and enclosed jetty at the foreshore to leave your skiff, the Wananavu team will organize return transport to Rakiraki town for provisioning. They will also arrange cultural and sightseeing tours in the area should you wish to explore the mainland.
T: 669 4433 | F: 669 4499 E: [email protected]
Volivoli Beach Resort
17°18'41.73 South | 178°10'24.04 East
A good sandy anchorage just off the resort holds in 30 knot winds. A courtesy call is all it takes to be welcomed ashore for access to this family run resort's bar, restaurant and swimming pool, complete with swim-up bar. Plenty of beer, kava and great music are guaranteed every night in the Beach Bar! There's also a large screen T.V. for those that want to keep up with rugby events. The luxury villas that overlook the bay make for a great launching point for your friends, crew or charters.
Resort staff will happily arrange taxi's to Rakiraki Town for provisioning for you and Soni the barman can organize great village visits around the area.
Ra Divers operate from the beach and if you call to make arrangements with the main office, tank fills are available for FJ$20.
T: 669 4511 | M: 999 2113
Anchorages in the area
There are several good anchorages within the area.
On the south easterly side of Nananu-i-Ra or; in stronger winds, an anchorage tucked in behind Nananu-i-Cake rests at:
17°18.793 South | 178°13.433 East
Well protected from the South Easterly Trades, and holding well in 30knots is the Volivoli anchorage located at:
17°18.933 South | 178°10.119 East
Some of the nicest beaches in Fiji are located on the back of Nananu-i-Ra Island. There is good anchorage with access to unspoiled private beaches available on the west end of Nananu-i-Ra at:    17°16.758 South | 178°11.677 East
* All GPS coordinates given = Chart Datum WGS84 using iSailor
Of course we have to include a disclaimer here, and remind you that everything contained within this Guide is merely a suggestion. Please use this information only as an aid to navigation.