By Andrew Reid, Django
June 7, 2014, 1000 am. It's the start of the ANZ Sailfiji ocean race from Auckland to Denarau, Fiji. We're as ready as a boat and crew can be and the five of us on board, AP, Bex, Lefty, Seamus and AJ, are looking forward to racing out of a soggy NZ winter towards warmer climes. The fleet numbers 20 odd, which is the biggest for some time and augurs well for both this race and the future.
We've been racing Django, a slightly tricked up J/111, as much as we can for the previous 18 months, with plenty of Auckland Harbour round the cans, local coastal races, regattas and the SSANZ two-handed series,
culminating in the 2 handed Round North Island race. Plenty of race wins in the short course stuff, and a string of seconds (somewhat frustratingly) in the longer events. So all the bugs have been ironed out, and we're going to give our all for top honours.
Nobody on the boat is a newbie, with plenty of sea miles clocked up – and more crucially, everyone on board knows how to drive. Driving fast is everything in ocean racing, although it is something of a given that a good driver probably trims well, can work the bow and hopefully cook. "Cooking" for us is pretty simple – open a muesli bar or pour some hot water into a bag of freeze-dried intestine clogging "food".
The forecast is crap, so we slog and slam northwards (in a boat best suited to downwind sailing!) for more than three days, in breezes up to 44 kts on the nose. It's wet, uncomfortable, bouncy, noisy, wet, slow, and wet. Remarkably, morale stays high to excessive (Bex is particularly unstoppable), and Seamus even manages to keep smiling after enduring 3 hours in the bow, unblocking the latrines – he emerges bruised, battered and a bit green, but remarkably cheerful. Note to self; a ready supply of Paihia Bombs is essential to deal with the unpredictable – we have no seasickness at all during the entire trip. Maybe that's the real key?
The last time I did this race was back in the 1980's, and much has changed. We know where we are, we know where everyone else is, and we have a pretty good idea of what weather to expect. However, the ocean is the ocean, and we're always conscious of the old adage; "The sea is not in itself inherently dangerous, but it is terribly unforgiving of any carelessness or neglect". When I started ocean racing in the 1970's, lifejackets were big, bulky and usually stowed somewhere inaccessible. We never wore them, and rarely clipped on to the boat. Navigation was by sextant, old school, so when the first "Satnav" came along in the early '80's they were seen as quite miraculous. Fast forward to now, lifejackets are comfortable, harnesses effective, and we are all wearing AIS transmitters to help the rest of the crew get us back if we do the unthinkable and fall off the boat. So while much has changed, we still need seamanship….
After the endurance test of the first 500 miles or so (which has forced 3 or 4 boats to pull out already), the weather relents and we start the mid latitudes tango from cloud to cloud, rainsquall to rainsquall. It's actually quite fun, as long as we can see that we're either making progress on direct competitors, or even taking time out of bigger boats. And it is getting warmer. Our arch rival in this fleet is the team on Squealer, they are both friends and…. enemies. We will remain more or less boat for boat for the entire race, although our eye is on overall handicap honours. In truth, the almost week long match race between the Squealers and us helps our eventual result (2nd overall on General handicap), as we push each other hard hour after hour, with a bet of a bottle of rum from one to the other for every hour difference in elapsed time.
By the Thursday evening (Day 5), we start to percolate. The breeze swings aft and steadily rises. The heavier A4 goes up and we start driving hard for the finish – Squealer is only a couple of mile behind us and has a touch more power in these conditions, so both teams push. It is dream sailing – fast downwind in the moonlight, and although the breeze and wave/swell combination is not quite enough to really get us up and boogying, we still see plenty of bursts to 18 knots, and remain in the high 16's for long periods. This is, as they say, what we came for. Morale has remained pretty much off the scale for the entire trip and I can honestly say that I have never raced offshore with a better bunch of people.
Early on Saturday morning, we are chasing Squealer down; they've passed us in the night and have about a quarter-mile lead. Our trump card turns out to be a sharper turn in towards the finish line inside the reef. Navula Passage is quite wide and the corner can be cut, but only by eyeball (reef sailing is colour coded – brown being bad), only in daylight, and not by GPS. We literally squeeze past Squealer 300 metres before the finish, but we're wearing a FRO to their headsail and although we're going slightly quicker, the angle of the line is such that they (cleverly, it must be said) pip us at the post by just 9 seconds. Unbelievable after 1200 miles, and thus far (I think) the closest finish in the history of the race.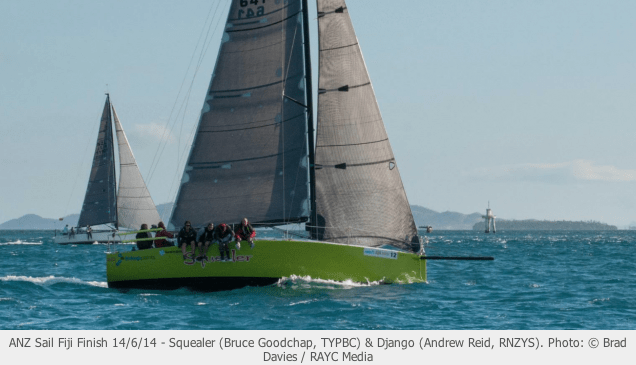 And a fine result for Team Squealer who, agonizingly, had dropped their rig just 100 miles from the finish of the 2013 race. Happily, we take them out on handicap, and think we've won overall. Of course, that proves not to be the case, as John Miller's very well sailed and lower rating Blizzard finishes just under 5 hours later and takes the handicap win.
The welcome in Denarau was, in a word, epic. Fiji must be one of the best places in the world to finish a race. Having beaten a bunch of bigger boats over the line and on a high (just before the hidden rum bottle comes out), we do the big high five/hug combo and I ask the crew""Who wants to do this again?" The response is unanimous, instant and raucous – so we'll be back in 2016 to have another crack.
Sadly, Django was lost on the return trip due to a broken rudder stock tearing the hull to bits. The crew were rescued by the NZ Navy in tough conditions and returned safely to NZ. Our replacement boat, an all carbon pocket rocket designed by Brett Bakewell White, is under construction at YDL – watch this space!