Distilled and matured in Fiji's tropical climate, the finest local ingredients come together to produce our famous Fiji Rum Co. Rums.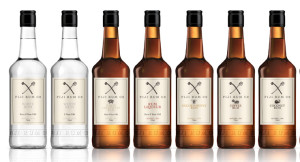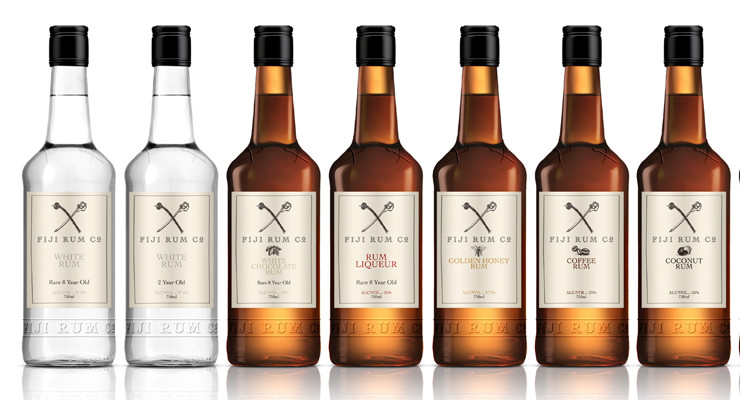 Fiji is relatively young in geological terms. The island retains its very rich volcanic soils with virtually no erosion. As a result, most sugar cane is grown organically. Our Plantation grown sugar cane is still cut by hand, leading to a richer cane juice with fewer tannins remaining. Fijian Sugar Mills use traditional techniques producing a rich Molasses with a higher sugar base. Add the purest of Fiji's artesian water and the mix yields a unique starting
base for our fermentation, which results in an unrivalled flavour profile.
Meet your maker
In a sleepy sugar cane farming town back in 1980, a 20-year old Liam Costello walked into the oldest Rum Distillery in Australia for his first day at a new job. Introducing himself to the distiller, and keen to get to the tasting, he was handed a 64 page exercise book and told 'This is how you make Rum. You should read it, and read it now 'coz I'm off!'
20-year old Liam watched i n
amazement as his would-be teacher
 walked out the door, never to be seen
again. "I knew nothing about making rum back then reminisces Liam, but I sure knew how to drink it"!
An old Customs officer who was based at the distillery took me under his wing and said "Don't worry son, I'll teach you everything you need to know."
 This 'Mr. Miyagi' of sorts taught Liam how to read the hydrometer, about strengths, weighing barrels, calculations, how to break it down and blending. He said, "A key phrase Liam – Pay Attention! I'm going to give you four simple words and if you follow them – everything will be ok. Learn, Try, Stay and Care".
"Learn all you can about what you do. Now that you have learnt it, try it for yourself. If you start it, always stay to the end. And care. Care about what you do – if you care enough you can achieve incredible results."
"I did care – at that point I really cared about making good Rum that my mates and I could sit around and drink together!" laughs Liam.
Liam entered his rums into the Royal Brisbane Show and for 2 years in a row won a trophy for most successful rum exhibitor. The rums won 3 gold, 6 silver and 6 bronze medals. "I turned up to collect the trophies in my work shorts with all the big guns from Bundaberg, Frigates and Inner Circle Rum looking on and asking, 'who is that scruffy little kid?' I was the youngest rum distiller in Australia working at Australia's first and oldest rum distillery."
At the same time as Liam was busy learning his trade back in Australia, the Fiji Sugar Corporation commissioned Fiji's first distillery. The Rum they created was christened 'Bounty' after the infamous 'Mutiny on the Bounty' which occurred in Fiji Waters.
For 33 years White, Dark and Overproof Bounty Rum's were made, sold and loved throughout the nation. In 2003 Liam bought 'Crusoe's Retreat' located along the Coral Coast. His bar was well stocked with Bounty Rum – as he poured Rum cocktails for his guests, he was oblivious to the journey that he and Bounty would inevitably embark upon.
Liam missed his working relationship with alcohol and eventually joined Paradise Beverages (the company that had taken over the Distillery). While initially employed as a Sales Manager, Liam's vision for Bounty was about to take form.

"I realized we were selling our Rum to overseas companies and it was winning them medals left, right and center as 'Best Rum in the World'. So I thought to myself "Enough is Enough! – this is Fiji's Rum and we need to take it to the world as such".
I went to the distillery in Lautoka and blended the best of the barrels into great Rum that I knew would win awards. So off to the London International Wine & Spirit Challenge we went, returning with Gold and Silver Best In Class, two more Silvers and short-listed for distillery of the year! To prove that wasn't a fluke, we then sent it to the Ministry of Rum Tasting Competition in San Francisco and won two more Golds, Silver and a Bronze. But it didn't stop there…
Living by the age-old saying of 'The more you do of what you've 
done, the more you will have of
what you've got. If you don't like
what you've got, change what
 YOU do', Liams vision began to take shape and the Fiji Rum Co. was born with the help and support of Paradise Beverages General Manager, Tony Scanlan and the then new owners (Coca Cola Amatil) regional representative Paul Gloster.
Introducing Flavoured Rums
After purchasing some simple ingredients from the local supermarket – cinnamon, star anise, vanilla, nutmeg, and even some oranges to peel, Liam went home, opened a bottle of Bounty Dark Rum and poured a concoction of the ingredients into the bottle. There it sat, on the kitchen countertop for about 7 days. On day 8, it was presented to the Directors of Paradise Beverages as the blueprint for 'Spiced Rum'. It smelled and tasted like Christmas in a bottle!
They were sold on the idea, and so the venture into flavoured Rum began. Liam ran thousands of trials, creating thousands of blends and sampling thousands of barrels of Rum until he found exactly what he was looking for – dream job, right?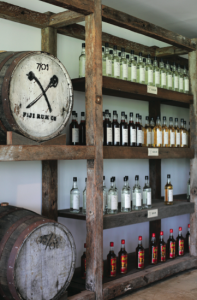 "Once I have an idea for a new flavor, I know exactly what I want it to taste like", he explained. "What shape I want it to create in my mouth, and how I want it to feel – I can go through 60 different samples until I am happy. Only then, does the Rum leave the distillery".
Today's range of flavoured rums is wide enough to appeal to everyone – even the staunchest of Rum hater! From warm Honey Rum, to decadent White Chocolate, to smooth Banana and delicious Spiced Rums – there is something to suit the pallet of everyone who enjoys a tipple.
Having spent many years working in the wine industry Liam has worked with some of the most skilled wine makers in the world who taught him about the shape of flavours, profiles and how they work together in the mouth. Remembering 'Mr. Miyagi's' words of wisdom, Liam paid attention to everything they said, and when returning to the distillery, he applied this knowledge to the creation of Fiji Rums. Liam's skills have been fine tuned over time "I reckon I have tasted over 8.5 thousand barrels just in the past 12 months" he confessed.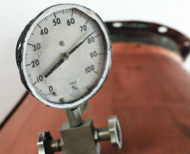 It's all about how the Rum comes into the mouth; how it stays and feels inside, and when it leaves your mouth – what it leaves behind. Everything has to be in a perfect balance. From American Mocca Chips to
draw the Rum across your palate,
Orange Peel to cut through the 
sweetness, Star Anise, Cinnamon
and Vanilla to add layers of
complexity to enhance the 
already complex flavours of the
Rum, he told me "The skill is in
 knowing how all these flavours 
affect the rum and what it does inside the mouth".
My mouth was watering just listening to Liam describe how through careful measurement of these delicious ingredients, he manages to pull the flavor all the way in and anchor it to the back of your mouth.
Quite frankly, I had to insist we end our chat there and then, and get on with the tasting!
My very unsophisticated taste buds were quite enamored with the Banana Rum, but absolutely fell in love with Rum Shop Manager Riteshni's Fiji Rum Cocktail creations.
The Makers Recommendations
I asked Liam which was his favourite. In return he asked if I had children and when I answered yes, he asked me to choose a favourite; point taken.
However, he did give us a couple of top tips; "For everyday drinking, it has to be Honey Rum and Coke on the rocks. After dinner sipping? Try an 8 year old Rum Liqueur for complexity and for general sipping, it has to be the 8 year old white rum – just beautiful!"
Where to Try
Fiji Rum is available for purchase through the Fiji Rum Co. Store at the Denarau Golf and Racquet Club which is open from 1:00pm to 9:00pm daily, 7 days a week (excluding Christmas and Good Friday). The shop staff will welcome you for a tasting session, and you may well get to meet Liam yourself! It is also available to drink at resorts and bars around the country.
Certain to delight the masses the Fiji Rum Company website will soon have an online store through which you will be able to place your order and have it delivered to your door internationally.