17° 41.00 South | 177° 23.00 East
Welcome to Vuda Marina Fiji! The historical beach where our intrepid ancestors first discovered Fiji, having sailed in canoes from lands far, far away, now presents you with a modern marina to discover.

Some 3,500 years ago, the first settlers climbed out of their canoes and took their first steps onto their new home. According to local legend, the first Fijians arrived at this spot around 1,500BC. Today in 2014, it is your turn to step out of your yacht and explore modern day Fiji!
Our country is yours for discovering…
The Marina
Vuda Marina Fiji is a unique commercial marina complex, operating as a hub for yachtsmen and yachtswomen traveling to the South Pacific. It is conveniently located at Vuda Point, which is situated on the western end of Viti Levu (Fiji's largest island) between Nadi International Airport and Lautoka city.
The marina is a great place to be based year round.  Its crossroads location and close proximity to key areas on the mainland and offshore islands is unique in Fiji. The marina also offers a convenient base for those wishing to explore the beautiful chain of Mamanuca and Yasawa islands situated just offshore and within view.
You can retrace the steps of those first explorers to the nearby village of Viseisei, which is where the first settlers established home. A short distance from here lies the historical village of Vuda – an extremely significant place for Fijian people. Visit the famous 'fort' that once provided excellent vantage for the settlers to defend themselves from attacks, and see the 3500 year old 'killing rock' where public executions would be carried out (the victim was likely later cooked up for dinner!).
Facts & Figures
Accessible through a 25 metre wide reef channel, the marina entrance is marked with beacons and green leading lights and is easily arrived at by approaching the highly visible 'Total' storage tanks from the southwest. Vuda Marina Fiji is a berth and repair marina equipped with the largest 63-ton WISE travelift in Fiji. It also has a hardstand and up to 40 'cyclone pits' for monohulls that choose to sit out the cyclone season with their keels lowered into pits.
Special berthing rates are offered for yachts that stay for longer periods. At full capacity, the marina can accommodate 78 boats and has a minimum depth of 2.5m in the channel at zero low tide and a minimum depth of 3m within the basin.
Clearance Facilities
Now arriving yachts can conveniently clear into Fiji waters using the Marinas floating dock where government officials will be waiting to greet the captain and crew and proceed with formalities. Captain and crew can then immediately start to enjoy their stay in Fiji by using the Marinas facilities, restaurant, café, bar, yacht chandlery, general store, ATM, laundry and fuel station.
This is a huge improvement in the arrival experience for those arriving in the Western side of Fiji whereby yachts had to previously clear at the industrial Lautoka Wharf.
Operation hours of the Vuda Marina Boarding Station are:
Monday                               0900hr – 1200hr
Tuesday to Thursday     1000hr – 1200hr
Friday                                   1000hr – 1500hr
Safety
Due to its unique inland basin, Vuda Marina Fiji is protected and secure with very limited wave action – even in cyclones. The Marina also has a surge boom that can be placed across the channel entrance to impede any kind of rough seas from entering. While nowhere can be guaranteed as being 'hurricane proof', this marina is certainly a safe hideaway.
Upon arrival, please read the cyclone preparation requirements of the marina very carefully so that you are prepared in the event of one occurring. Note that regulations must be followed should a cyclone warning be issued.
The marina is equipped with 24-hour CCTV coverage for better security of the premises.
Services
Vuda Marina Fiji has a one stop yacht chandlery for all your boating needs, from stainless steel rigging, yacht paints, repair materials, hardware items, sail repair kits and all-weather clothing. The Marina also has a register of professional yacht and marine repair & maintenance companies for all your repair works. Discussing required works directly with contractors is a convenient option here within the contractor village. Many people find great value in coming to Vuda Marina for their repair works due to the high workmanship and competitive pricing of these providers. Storage Facilities provide 1m3 & 2m3 Storage Lockers for long & short rental.
Visitor Attractions
The Boatshed Restaurant & Bar
The Boatshed Restaurant & Bar offer al-fresco dining options. A fantastic and frequently revamped a la carte menu is available in both the Boatshed Restaurant & Sunset Bar with locally inspired nightly specials to whet the appetite. There is also a kids menu and play area. Perched over the marina channel, the famous Sunset Bar has a breath-taking panoramic view extending over Nadi Bay and the Mamanucas. Sip on a nice cold beer as you watch the sun set over the islands knowing that your yacht is safe and sound in the Marina.
Open 7 days • 10am to 10pm
Half price pizza nights on Tuesdays from 5.30pm
Happy Hour on Thursday nights 5.30-6.30pm
Talent night on Thursdays after happy hour.
Reggae band & pintos nights every Friday! Sunday afternoon Jazz 2pm – 7pm
Boatyard Café
Enjoy stunning views from the balcony of the Boatyard Café. Consistently updated menu items available include salads, light meals and delicious coffees. Open 7 days • 7am to 4pm
Live Band
Sunday afternoons at the Marina are always accompanied by live band entertainment. Relax with a beer in the great open- air surroundings, tap your toes along to some great lounge music and enjoy the local company. Starts at 2pm
Moonlight Cinema
Popular open-air big screen movies showing on the front lawn – weather permitting. A wide selection of movies are shown – check the notice board for what's showing if you want to catch up on your Hollywood action! Mon, Wed & Sat @ Sunset
General Store
The General Store has a variety of foods, drinks, toiletries and various miscellaneous items for your convenience. Open 7 days • 7am – 6pm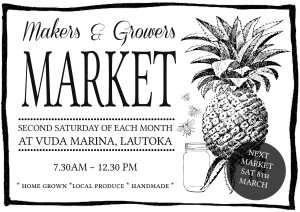 Cooking & Cocktail Classes
Throughout the week, there are a variety of cooking and cocktail making lessons to be enjoyed free of charge for those wishing to learn new skills and techniques during their travels.
Foodscaping
The Marina has planted 1000 pineapple plants, over 50m of passionfruit and various fruiting trees for guests of the Marina to enjoy free of charge. We ask you to tend to the garden as payment for the fruits and only take what you need.
Makers & Growers Market
A fresh produce & food market is held every second Saturday of the month. Buy local jams/preserves, goats cheese, organic eggs, herbs, coconut oil, spices, honey etc.
Accommodation
Vuda Marina Fiji has a variety of accommodation options for those wishing to spend a few nights on dry land. Our rates are very reasonable and you are only a stones throw away from your beloved yacht. Accommodation options are limited but very popular so be sure to book in advance. Please enquire for latest rates. Discounts are offered for long stay guests.
Getting Around
The Vuda Marina Fiji Taxi's operate a stand daily and are on call nightly. A 15 minute ride in to Lautoka should cost you in the region of $15, and 30 minutes in the other direction and you will arrive in Nadi Town for around $30. Local Buses can be caught from the Vuda Marina Police Post. They are a great way to travel, cheap and fun and a great way to get a taste of the real Fijian, urban way of life.
Lautoka City bus Timetable:
Bus departs   Mon – Sat: 07h30 | 11h15 | 13h15 | 15h15 | 17h15
Nadi Town bus Timetable:
Bus departs at regular 15 minute intervals from the Vuda Junction.
Vuda Point Marina

PO Box 5717, Lautoka, Fiji

T: +679 666 8214

F: +679 666 8215

Skype: Link will initiate Skype to call our Skype username vudamarina!

inf…@vudamarina.com.fj

17° 41.00 South | 177° 23.00 East