It is important to support operations that care passionately about our precious underwater environment.
Divers are some of the strongest and most effective advocates for coral reef conservation.
As a responsible diver, consider our comprehensive list below when choosing which operator to dive with.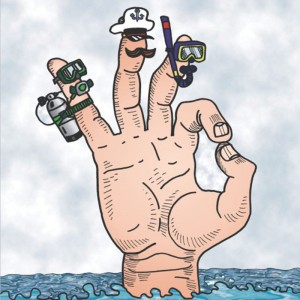 Find out whether the operator:
 Respects local guidelines, laws, regulations and customs;

Hires local dive guides and masters when possible;

Seeks local perspectives in planning interpretive programs;

Actively supports local marine parks;

Uses moorings instead of anchoring. If anchoring is necessary, it should never be done on a coral reef;

Participates in local conservation projects – or has one of their own;

Offers pre-dive talks by knowledgeable dive masters that educate and reinforce rules for divers, such as:

Maintaining neutral buoyancy

Maintaining control of fins, gauges, and accessories

No touching, standing on, or collecting corals

No feeing or handling fish and other living organisms

Limits the group size and frequency of dives to any one dive site;

Verifies the proficiency of dive guests before allowing them to dive at fragile or tricky sites;

Has well-maintained engines to avoid release of petroleum products into the ocean;

Disposes of sewage in a way that does not affect the nutrient balance of the reef ecosystem;

Disposes of trash in an environmentally sound way – and recycles if the local area provides such a service;

Informs guests about how they can donate or support local coral reef conservation initiatives;

Supports local businesses and service providers as much as possible;\

Encourages the purchase of authentic art and crafts made by locals and other products that benefit the local economy;

Actively discourages the purchase of souvenirs made from coral, shells, turtles, and other threatened wildlife.
Things that YOU can do
It is not just the responsibility of the dive operator to take care of our reefs, there are some best practice guidelines to help you make sure you have a safe and enjoyable, yet environmentally aware experience on our beautiful reefs.
IN THE WATER
Never touch corals; even slight contact can harm them. Some corals can sting or cut you.

 Carefully select points of entry and exit to avoid walking on corals

Maintain a comfortable distance from the reef, so as to avoid contact.

Make sure all your equipment is well-secured

Make sure you are neutrally buoyant at all times.

Take extra care in underwater caves and remain only for a limited time as air bubbles can damage the eco-system

Practice good fining and body control to avoid accidental contact with the reef or stirring up the sediment.

Stay off the bottom and never stand or rest on corals.

Take nothing living or dead out of the water except recent trash that does not have living organisms on, or inside it.

Move slowly and deliberately in the water—relax as you swim and take your time.

Avoid using gloves in coral environments.

Remember, look but don't touch.

Minimize Contact with Marine Life

Never chase, harass or try to ride marine life.

Never touch or handle marine life.
ONSHORE
Support coral parks and other conservation projects

Visit established coral parks and pay applicable user fees that support marine conservation.

Encourage and support the use of boat moorings.

Participate in local initiatives to monitor the marine environment

Participate in cleanups.

Make a donation or volunteer your skills to support a coral park. For example, you can participate in a reef survey, conduct outreach, or help educate others about reef conservation.

Donate used equipment such as cameras, dive gear or reef identification books to local conservation groups

Avoid purchasing souvenirs made from coral, turtles or other marine life—this is often illegal, and it's never environmentally wise.
Photography and Videography
Divers need advanced diving skills to take pictures and video underwater.
Cameras and lights are cumbersome and affect a diver's buoyancy and mobility in the water.
It is all too easy to touch and damage delicate marine life when concentrating on "the perfect shot", so think before you take your camera.
Some conservation organizations (such as the Coral Reef Alliance) have photo banks of donated images from professional photographers that you can use to show your friends back home what you saw underwater.
Most importantly, speak up
Make sure your snorkeling/ diving buddies understand these simple but important practices.
Tell your chosen operator what they can do to improve if they are behaving in an environmentally unfriendly manner. It is up to us to spread the coral reef love!
For more information on responsible diving, or to download some beautiful underwater images, check out Coral Reef Alliance .
Illustrations courtesy of Grupo Intersectoriat Isla Cozumel