By Dr Paul Geraghty
When I was a young lad growing up in the Midlands of England, people who met me for the first time would usually ask not, as some might expect, "What's your name?" – "sunny Jim" or "Charlie" or "tubby" would do for that – or "Where are you from?", "What team do you support?" Meaning what football (soccer) team did I follow, or 'barrack for' as some say in the Antipodes (since you ask, the answer is Coventry City, I'm a long-suffering Sky Blue fan). And I don't think that much has changed over the years – today, for most English kids, and many adults, their football team is one of the main markers of their identity. Ethnicity is also important, but not something you would ask directly.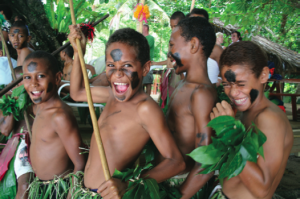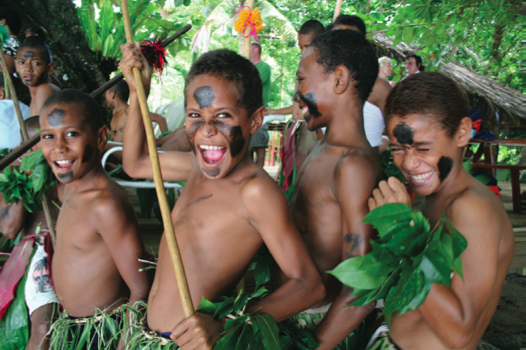 In Fiji though, while football teams are important to many kai Idia ni Viti (Fiji Indians), for indigenous Fijians, and many other ethnic groups, the most important marker of identity is where their roots lie. In the most general sense, Fijians are simply, and passionately, kai Viti (Fijians). As remarked by the botanist Berthold Seemann, who was sent by the British government to study Fiji and recommend or otherwise its admission to the Empire, in 1862: "No ancient Roman could have pronounced the words "Civis Romanus sum" with greater pride or dignity than when a modern Fijian calls himself a kai Viti."
But to be more specific, and indeed to know how to behave with a Fijian, you need to know their vanua (community, similar to district) and their koro (village), also called koro dina (true village). In today's mobile world in the west, the nearest equivalent is the ancestral home – it means the village where your ancestors come from. In Fiji, this often means the village a person grew up in, but with increasing urbanisation, many people are brought up in the towns and have never been to the koro, in fact some will tell you that even their father or grandfather has never (or only rarely) been to the koro. But this makes no difference – a Fijian's identity is their koro, whether they've been there or not!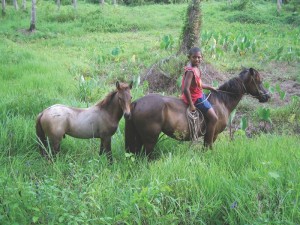 This is reflected in some what might seem to us rather bizarre reporting in the local press, for example: "Originally from Tovu, Totoya, Jone was born and bred in Suva.." or "He was born and bred in Nakodu on Koro Island. Originally from Susui in Vanuabalavu." What 'originally' means here is simply koro, their ancestral home, which in such cases they have probably never even visited.
The situation is further complicated by the fact that everyone also has a koro ni vasu – village their mother comes from. So someone might tell you, "Au kai Lau vasu i Rewa" and this means "I am a native of Lau but my mother is from Rewa." Your koro ni vasu is a special place, because you tend to get spoiled there, and in traditional society there are times when you can take wealth – like mats, tabua (whale's teeth), pigs, root crops etc – from your mother's village without any payment – and your maternal uncles will thank you warmly for it!
For women, the situation is more complicated still, because when they get married they may well acquire a new village – since Fiji is mostly patrilocal (except for parts of Vanua Levu) women tend to move into their husbands' villages when they marry. The village a woman marries into is called her koro ni vakawati (village of being married) or, rather more charmingly, koro ni dodomo (village of love).
If you are visiting a village, then, you can expect most of the menfolk to be natives of that village, but many of the women will be originally from other villages, perhaps even from distant islands. Some of the men may not be natives but vasu – living there because it is their mother's village, for various reasons. If you want to enquire politely, say "Onī turaga ni vei?" (or to a woman, "Onī marama ni vei?"), meaning "Where are you from?".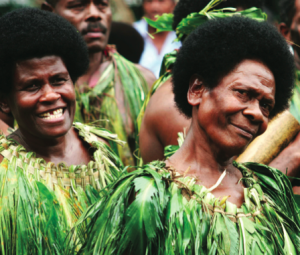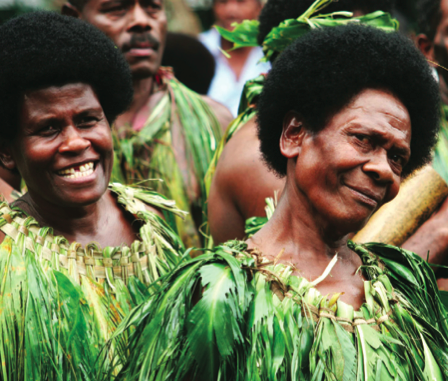 I mentioned above that in order to interact with a Fijian, you need to know where they're from, their koro and vanua. Of course you can have a wonderful relationship with a Fijian without knowing this, and many visitors do, but if you want to enter into Fijian society, and not remain permanently on the outside, you need to know their roots, and it helps enormously to have some roots of your own! Not that you need to cease to be an American or Australian or whatever, but many people, including myself, have found living with Fijians more satisfying by being adopted into a community and thus interacting with others as a member of that community would.
Take me as an example. I first came to Fiji as a secondary school teacher, and many of the boys I taught invited me to visit their villages during the first school holidays. So I did, and one of the boys' fathers adopted me as his son, in the village of Nasau on the island of Moce in southern Lau. From that day to this, my identity has been that I am a kai Moce from Lau. So, for example, whenever I meet with someone from Ono (the southernmost inhabited island of Lau), with which Moce has a tauvū (joking) type of relationship, I fool around and call them names and they do the same to me. Nevertheless we are very close and help each other in any way we can. But when I meet any of the chiefly family from Tubou Lakeba, where the Tui Nayau (high chief of Lau) lives, I must be very deferential, because they are like the royal family to us kai Moce.
There are many similar relationships all over Fiji. So if you want to really experience living in a Fijian society, have yourself an identity, so you can proudly say that you are a kai Niusiladi (New Zealand), kai Merika (America) or kai Ositerēlia (Australia) etc. if asked by a kai Viti.
About Dr Geraghty
Dr. Paul Geraghty graduated from Cambridge with an MA in Modern Languages (French and German), and earned his PhD from the University of Hawaii with a dissertation on the history of the Fijian languages. He was Director of the Institute of Fijian Language and Culture in Suva from 1986 to 2001, and is currently Associate Professor in Linguistics at the University of the South Pacific. Author of several books (including The History of the Fijian Languages, the Lonely Planet Fijian Phrasebook, and Say Bula) and numerous articles on Fijian and Pacific languages, culture, and history, he is also well known in Fiji as a newspaper columnist and radio and TV presenter.