Immigration guidelines
Each person will be required to complete a passenger arrival card. You should note that the Customs officer boarding your vessel may also complete immigration clearance and issue a four (4) month visitors permit upon entry providing you have a passport issued from a country that does not require you to have a visa to enter the Fiji Islands. Part of the passenger arrival card will be detached and left in your passport and you must keep this safe, as you will be required to deliver it to Immigration again on your way out of Fiji. Passports must be valid for at least six months from the date of entry.
Countries That Do Not Require A Visa To Enter The Fiji Islands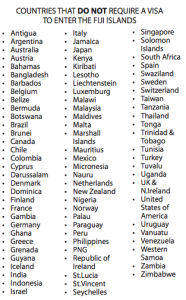 Check the list of country's nationals who do not require a pre-entry visa to Fiji.
For countries that do require pre-entry visas into Fiji, crew members are required to apply for and recieve approval from the Department of Immigration prior to their arrival in Fiji.
You will also need to contact the Department of Immigration regarding any other immigration issues such as replacement passports, change of status, work permit applications etc. It is also here that for a fee of FJ$96, you are able to apply for a standard two month extension to your initial 4-month visitors permit. You may then apply for 'Special Permit to Reside' should the need arise, which grants a further 6 month stay.
While immigration services are provided free of charge, vessels will be charged for the return transportation costs incurred by the immigration officer en route to the yacht.
Crew signing on or off
It is important to note that visitors or crew coming into Fiji are not able to enter the country on a one- way ticket. They must have a return ticket OR they must have a letter of approval from the Department of Immigration stating that they are authorized to enter on a one-way airline ticket in order to join a yacht and depart by sea. Airlines will not allow crew members travelling on a one way ticket without this letter, and so advanced preparation of this document is important.

In much the same way, any crew or visitor that has arrived by yacht and who plans on departing by air must officially sign off the crew list and the vessel's master must notify immigration before the date of departure.
As Owner or Captain of the yacht, it is a requirement that you notify Immigration when signing on or off new crew. You will need;
A copy of the crew members passport;
Completed 'Change of Crew Form A' when signing on and 'Change of Crew Form B' when signing off, both of which can be downloaded from Department of Immigration.
Note: Please remember to keep a copy of the departing crew members plane ticket. 
For more information, or to download copies of Advance Notification/Inward Report for Yachts/Small Craft, Passenger Arrival Card, Notice to Owner of Yachts Declaration and Border Currency Report, please visit the website of Fiji Revenue and Customs Authority.