By Steve West
If you were asked to name the one defining sport of the Pacific Islands, a sport recognised officially as the national team sport of Hawaii, the national sport of the Society Islands (Tahiti) and central to the Maori of Aotearoa (New Zealand) a sport bone-deep and rich in history and steeped in cultural significance, you would probably be surprised to know that it is in fact, outrigger canoeing, otherwise known as va`a hoe in the Society Islands and Wakaama in Aotearoa.
The descendants of Fiji's original inhabitants were the beneficiaries of at least one great voyaging canoe journey and from this smaller dugout canoes and outrigger canoes, 'Takia' as they are known locally, would have manifested for the purposes of fishing, trade and short inter-island journeys. Outrigger canoe racing throughout the Pacific, nurtured by the Tahitians for over 130 years at their Heiva Festival Races and in Hawaii in the 1920s and formalised in the 1950s, has now spread far and wide from its origins, to Europe, South America and beyond. Recently accepted into the Paralympics, Para Va`a will make its debut in Rio in 2016.
Outrigger canoe racing has been active in Fiji for over 20 years and although the sport should be indigenous and a natural extension of Fijian life, it has long been cast aside to Eurocentric sports such as Rugby, which dominate the mindset of society. The reasons for this are many and varied, but you would be intrigued to know that the canoe is considered not just an anachronism, but symbolic of the old Fiji, when inter-island warfare was commonplace and before reformation on account of missionary intervention. Loss of the canoe has meant a loss of many artisan skills and a maritime heritage, yet outrigger canoeing offers an opportunity to embrace, participate and discover what's been lost and connect with the wider family of paddlers throughout the Pacific, Pacific Rim and beyond this.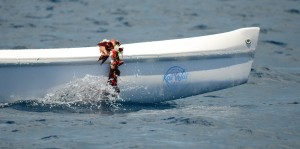 That being said, Fiji has a healthy following of enthusiastic paddlers and club members and why not, its waters offer some of the best paddling in the world. I've been coming to Fiji now for near on 20 years and I can say with certainty, that paddlers of New Zealand, Canada, California and Europe in particular would revel in the opportunity to paddle in Fiji waters, especially out in the smaller island groups, over azure waters with the back-drop of emerald clad islands rivaling the scenic Oceanic majesty of anything in the Pacific. But Fiji waters, don't just offer paddling on a passive level taking in the sights within the confines of a lagoon, but hardcore open ocean 'downwind' paddling fueled by seasonal Trade Winds , which many OC1 and SUP paddlers live for.
With this in mind, few resorts or retreats in the world, offer a combination of team, solo outrigger canoeing (OC1 and V1) stand up paddle boarding and canoe sailing as part of a holiday experience and certainly not in what we know to be paradise. Yet paddle sports remain one of the most popular and easily accessible global activities, with many lifestyle paddlers living in the Pacific and around the Pacific Rim. Their idea of a holiday, often involves some form of paddling activity, more specifically, they want access to quality equipment and an opportunity to train or attend workshops run by knowledgeable, hardened paddlers, but to date, outrigger canoe paddlers more especially, have been over-looked.
The recent emergence of stand up paddle boarding (SUP) is now a global phenomenon and not since windsurfing's hay day of the 80s has there been such a vigorous interest in a new watersport. The sports links, often erroneously tied with surfing, have closer roots back to outrigger canoeing and of course way beyond to Africa, where standing and paddling dug out canoes has been practiced for thousands of years – even here in Fiji, you can witness dugout canoes being stand up paddled. There's growing interest in Fiji for SUP, both at local level, within resorts and for the roving traveller looking for downwind paddling, SUP surfing experiences, races and more besides.
Leleuvia Island Resort is setting out in 2014 to offer just such an experience under the guidance of Resort Manager Colin Philp, a founding member of the Fiji Island Voyaging Society and instrumental in establishing the Fiji Surfing and Fiji Outrigger Canoe Racing Association and has represented Fiji in yachting and outrigger canoeing in seven South Pacific Games and five World Championships, with the 1988 Seoul Olympics the pinnacle of his career.
Steve West a long standing friend and associate of Colin, is also keen to see the development of a 'Centre of Excellence for Ocean Paddle Sports' in Fiji, notably outrigger canoeing and stand up paddle boarding. Steve is regarded as a world authority and educator of outrigger canoeing. Author of two definitive books on the subject (with two new books due early in 2014, OC1 and V1 titles) his books are stored in the University of Hawaii and the USP in Suva. He is a two time World Masters Champion (Molokai Hoe) and produced the world's first outrigger canoeing coaching syllabus, has recently released a 500 page stand up paddle boarding (SUP) book and for the past three years, acted as CEO for the Academy of Surfing Instructors Europe, training SUP instructors and accrediting schools and created two of the instructor levels offered.
Leleuvia Island Resort Fiji, aims to provide a number of packages to attract paddlers and want- to-be paddlers from all over the world. World-class paddlers will be invited to deliver week-long courses, to cover various topics centred on outrigger canoeing and SUP. In addition, Steve is planning a series of "Living Book Workshops" involving living- out the contents of his books through theoretical and practical experiences.
When you stop to think the sum of the whole of paddle sports are substantially bigger than surfing, there's every reason to sense that Fiji could be poised to offer some of the best paddling experiences on the planet.
About Steve West
Steve West is a lifelong prolific writer, researcher and ocean athlete. Born in West Africa, he lived for some 20 years throughout East and West Africa, Mauritius and the Far East, schooling in the United Kingdom. Residing in Australia for the last 25 years, his work in documenting the sport of outrigger canoeing through his books has earned him the reputation as a leading authority. Recently he has turned his attention to stand up paddle boarding.