17o 46'18" South | 177o 22'56" East
Port Denarau Marina was awarded "MIA International Marina of the Year'" in May 2015 for outstanding services and facilities provided to the cruising and yachting industry.
The Marina
The marina is well positioned to provide a stopover for rest, recreation and provisioning during your cruising of the Fijian Islands. Situated on the western coast, it's a short 20-minute taxi ride from Nadi International Airport, and only an hour to Lautoka city, which is a main port of entry.
The marina is state of the art and part of the largest retail/restaurant complex in the Nadi area.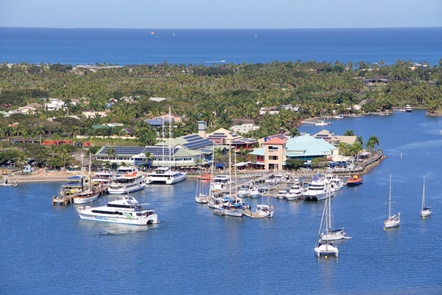 Facts & Figures
Accessed through a well-marked channel that is 5 metres deep at zero tide. The marina contains 64 fully serviced berths for visiting yachts including 4 x 85m, 7 x 65m, 3 x 55m, and 12 x 30m berths and 5m draft at low tide. The marina is a swipe card access restricted area and provides vessels with on the dock water and single and three-phase 50hz electricity. WiFi Internet is also available on all berths. Diesel is reticulated to all superyacht berths for easy high speed transfers.
In the height of the season there is also a spill over marina with many Mediterranean style berths. Additionally there are 14 moorings within the marina basin.  No anchoring is allowed within Port Denarau Marina limits but a good anchorage is available just to the east of the marina entrance markers.
Safety
The marina is fairly well protected and offers in-ground cyclone holes and mangroves but is not a cyclone haven and must be evacuated in the event of a cyclone.
Services
The Boat Yard
Port Denarau Marina is a haul out facility providing the latest equipment that offers comprehensive marina services that includes a 50 tonne travelift, forklift services, a hardstand area, marine workshops, short and long term boat storage, and dry stack facilities. You will also find the following services based on-site within the marina complex: Engineering/ Welding Workshop, Hydraulic Workshop, Outboard / Jet Ski Repairs, Aluminum Fabricators & Boat Builder, Stainless Steel Fabrication, Repairs & Maintenance, Sail & Canvas Maker, Yacht Agents, Marine Chandleries, Painting & Antifouling, Dive Tank Refills, Gas Bottle Refills.
Barge Services
Port Denarau Marina also owns of the 'Spirit of Denarau' which is a 32m self propelled landing craft with inbuilt fuel and water tanks as well as a 120m2 deck with access via a loading ramp. For large vessels and superyachts the Spirit of Denarau can be used for bunkering either at berth or outside the marina for vessels restricted by draft.
Provisioning
Within the retail centre you will find a well stocked supermarket, bottle store, post office, bank, money exchange, doctor's clinic, pharmacy, clothing and souvenir shops as well as a wide range of bars and restaurants (which is great if you are sick of cooking!).
Denarau Yacht Club
The Grand Opening of a 2 storey Yacht Club in 2015 added significant development to this popular yachting destination. Named 'The Rhum-Ba', the Yacht Club incorporates a rum bar and modern dining on the ground level with a function and events facility upstairs. Only recently opened The Rhum-Ba has been well received and is already Tripadvisors number 2 restaurant on Denarau.With a light and modern interior The Rhum-Ba offers expansive views to the north and east across the Port Denarau Marina and Jetty C.  The new facilities also provide opportunities to host more international yachting and game fishing events.
Visitor Attractions
Situated at the main marina complex you will find an array of companies offering trips to the islands and activities such as game fishing, Scuba diving, jet boat rides, hiking trips, camping trips, dinner cruises, parasailing, sky diving, banana rides, water skiing, wakeboarding, helicopter rides, island tours and much more…this place is geared for tourism.
The Marina is walking distance to several international hotels that offer a host of recreational pursuits including an international 18-hole golf course, hard and turf surfaced tennis courts, the Denarau Mini Golf & Driving Range offering bungee trampolines, ten pin bowling, batting cage and mini golf. The Big Bula Water Park is great if you have kids – or are a big kid yourself! Spas are dotted around the island where you can be given a new lease of life if you are feeling a little weather beaten.
Accommodation
The Marina complex is part of Denarau Island which is home to a suite of international brand named hotels if you feel like spoiling yourself or have friends / relatives flying in to meet you. All the top names are there; Worldmark (Wyndham) Resort Denarau, Radisson Blu Fiji Resort, Sheraton Fiji Resort, Sheraton Denarau Villas, The Westin Fiji Resort & Spa, Sofitel Fiji Resort & Spa, The Terraces, The Palms and The Hilton.
Getting Around
The marina offers an extensive range of ferry, water taxi and cruise operators catering to day trips and Island Resort transfers.
Explore Denarau Island and get your bearings by taking a ride on a unique and open 'Bula Bus'. Operating on a continuous loop departing every 15 mins from 7.30am – 11.30pm, 7 days a week! $8.50 for adults and $2 for children under 10 per day for unlimited travel.
Nadi Town (larger) and Namaka (slightly closer) are only a short bus or taxi ride away. Denarau Taxi's are safe, honest and reliable.
West Bus Transport services Denarau Island and drops passengers at Nadi bus station 7 days a week. From the bus station in downtown Nadi, you can jump on a bus to Lautoka or ride all the way to Suva.
PO Box D23, Port Denarau, Fiji

T: +679 675 0600 | F: +679 675 0700

rese…@denaraumarina.com

VHF 14

17° 46.18 South | 177° 22.56 East 51