18° 03.49 South | 177° 15.97 East
Robinson Crusoe Island Club is located on a small island near the passage into Likuri Harbour north of Natadola Beach on Vita Levu.
With a history dating back 3,500 years to when the first Polynesians landed their huge outrigger canoes on our shores.

Entrance minimum depth is 2m.
Radio in on VF Channel 10 and we can escort you in to our safe heavy weather anchorage.
Anchorage minimum depth is 2m–6m.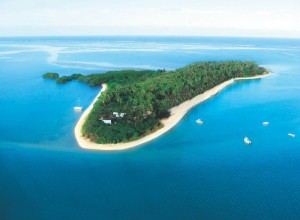 The island was originally known as Likuri Island and was a restricted and sacred place for traditional ceremonies and chiefly gatherings. As a historic settlement site of the Lapita people, today the island is home to an intimate eco-friendly resort, which is the result of a successful partnership between the Australian owners and Fijian landowners.
The arrangement is based on the traditional Fijian system of agreement, and allows visitation and accommodation for tourists looking for a more authentic and cultural experience.
The island is located in the estuary of the Tuva River, and is surrounded by coral reefs on the exposed seaside. Snorkelling and scuba diving here is an awesome experience.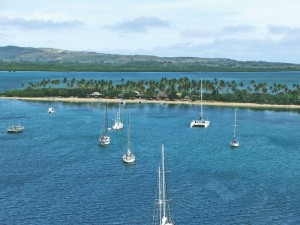 On the landside exposure, you will find some endangered mangrove forests, and at the islands extremities you will find soft sand bars and a lagoon that bears into the Pacific Ocean.
Robinson Crusoe Island is a place where you can do everything or nothing. Packed with cultural and educational activities for the whole family to enjoy. For those wanting rest and relaxation, the island has a beautiful beachfront with hammocks and swinging chairs that you can laze in by the lagoon.
Fresh local produce and fish, fine cuts of meat and traditional lovo feasts will delight your taste buds in open air dining peering across the ocean. The beachfront bars are a great place to cool off and have a tropical cocktail or cold beer.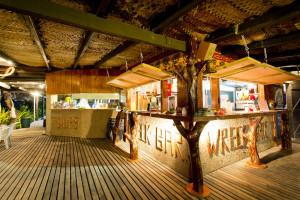 There is Happy Hour every night at the Wreck Bar and a cultural show with meal specials from FJ$25. Be enthralled by the famous South Pacific Island Dance Spectacular!
You will be captivated by the Polynesian, Micronesian, Melanesian dances with some of Fiji's best knife and fire performers. We can also arrange tours and village visits.
Additional activities are available at extra cost including massages, manicures & pedicures, sport & game fishing, diving and water sports. A world championship golf course is just 5 minutes from our Jetty. Some provisioning is available. Nadi Town connections are daily. Club membership & discounts are also available.