The Pacific Islands region is important for a great number of cetaceans (whales and dolphins), whether as a permanent habitat, a breeding ground or a migration corridor. Currently, more than thirty species of whales and dolphins have been identified in this area, and in Fiji alone we have 15 confirmed species of whales and dolphins.
Humpback whales are seen migrating through our waters, as they travel to Tonga to breed and calve after feeding in Antarctica. There are large groups of pilot whales that inhabit our waters, and false killer whales that seem to come through annually singing loudly as they do!
Of course we also have the odd individual that you may encounter, minkes and sperm whales being the most common.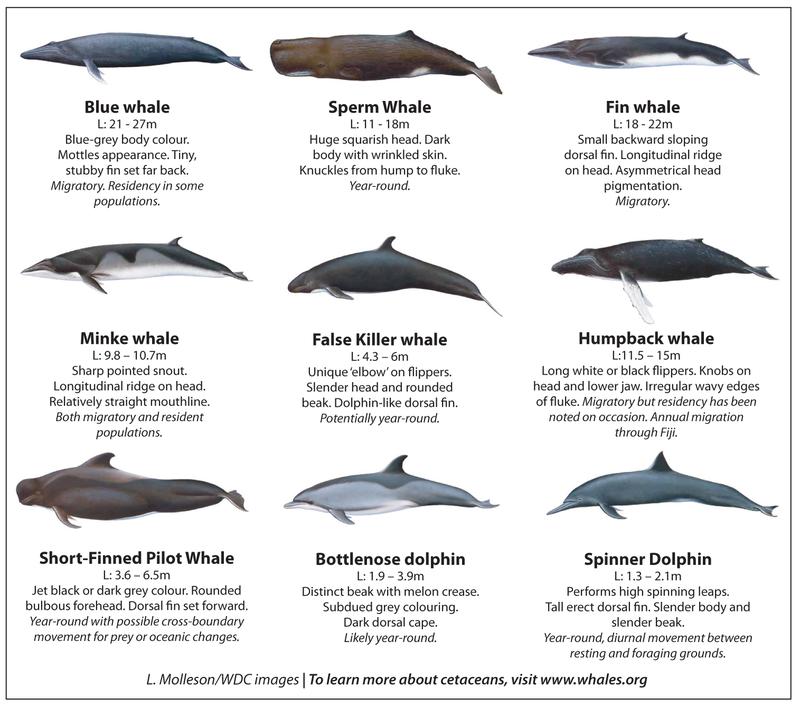 L. Molleson/WDC images | Learn more about cetaceans here 
Cetaceans may be disturbed by the presence of people, vessels or aircraft. In order to ensure the conservation of these magnificent animals in our region, it is our responsibility to minimize the disturbance caused by our presence.
Towards that goal, the collaborative efforts of SPREP, Cetacea, IFAW, and FFEM have produced some regional best practice guidelines.
Regional best practice guidelines
Whale and dolphin watching activities can potentially cause long-term disturbance to cetacean populations, which include:
Disruption of behavior (e.g. feeding, nursing, mating, migrating);

Displacement from important habitat areas (e.g. resting, feeding, breeding and calving areas);

Long term stress;

Injury;

Reduced breeding success;

Increased mortality.
Changes in the behavior of whales and dolphins need to be recognized and acknowledged as such, so that animals can be left undisturbed. The following behaviors may indicate that a whale or dolphin is affected by our presence:
Changes in swimming speed or direction (to avoid boat);

Changes in breathing / diving patters;

Stopping or changing activity patterns (e.g. vocalizing, feeding, nursing, socializing);

Changes in group size and cohesion; changes in acoustic behavior and surface behaviors such as peduncle tail throws and trumpet blows.
Populations, and individual cetaceans may react differently depending on the species, their age, sex, and if accompanied by a calf. Do not encircle animals and always leave them an 'escape' route.
Persons shall always:
Operate vessels so as not to disrupt the normal movement or behavior of whales and dolphins; 

Stop any interactions with a cetacean at any sign of the animal becoming disturbed or alarmed;

Allow cetaceans to determine the nature and duration of interactions.
Therefore, the following recommendations need to be considered:
Do not touch a cetacean;

Do not feed a cetacean;

Do not make any loud or sudden noises;

Do not make sudden or repeated changes in direction or speed;

Dedicated observers should be on duty in addition to the captain of the vessel;

Do not place a vessel up wind of, or in a position where it will drift into, the no-approach zone (see diagram).
When vessels are within the caution zone of whales or dolphins:
Approach cetaceans slowly and cautiously;

Observe cetaceans at a speed not exceeding the speed of the animals;

No more than 3 vessels should be in the caution zone of a whale or dolphin at a time. Coordinate 

approaches into the viewing zone with other vessels to avoid "trapping" whales or dolphins;

Leave boat engine on and in idle when watching cetaceans;
Do not disperse or separate a group of cetaceans;
A vessel should not chase, encircle, block the direction of travel of cetaceans, or position itself in the middle of a pod;
If cetaceans approach a vessel, slow down gradually and put engines in idle;
If cetaceans approach a vessel to bow-ride, maintain a slow and steady speed and avoid sudden changes in course;
When departing from watching cetaceans, determine where the animals are relative to the vessel to avoid collisions or coming too close to the animals, and increase speed gradually while exiting the caution zone.
The most appropriate method for approaching a whale or a dolphin is from the side and slightly to the rear of the animal. Avoid approaches from head on or directly from behind.
Report Whale and Dolphin Sightings
There are sightings of humpack whales being reported from all over Fiji! Some females set up camp in a nice shallow, sheltered bay to calf while many others are just pausing to say "Hello" en route to Tonga to do the same. Sightings have been recorded in locations such as Lau, Beqa, Namena, Savusavu, Koro and Macuata.
This is where YOU can help us determine a clearer picture of numbers, and migratory patterns of our whales!
Whale Encounters Form (pdf 1.8MB)
If you encounter a humpback whale (or any other species of whale for that matter) you can record the information about the sighting on the form(pdf here), tear it out and post it off to the provided address from the next post office you visit.
Dr Miller and her colleagues at the Department of Fisheries will add your data into the national database and compile the findings that will help our government conserve and better protect whales and dolphins in Fiji.