By Kate Mackay
Modern living generates garbage. An ever increasing amount of it. Finding a way to manage all this waste is a huge challenge, especially for an island nation like Fiji. Our ancestors here were acutely in tune with the natural environment, fashioning tools, crockery, and even carrier bags and tin foil of sorts from nature before the invention of modern day conveniences. Join a fun family picnic to the beach in the outer islands and you will likely see perfect examples of these for yourself.
Carrier bags and beach mats are woven from palm leaves, freshly picked root crops and speared fish are wrapped in banana leaves before being placed in a shallow earth oven. Plates woven again from palm leaves are used to serve delicious portions of lovo washed down with fresh green coconut water ('Bu' juice) and when all is said and done, the pile of natural waste is hidden neatly behind a bush for animals to scavenge or to biodegrade within weeks.
Enter modern society and the arrival of plastics…
With staggering amounts of domestic and industrial waste thrown away world-wide, every day, it is hardly surprising that there are astounding volumes of rubbish making their way into waterways, floating along the worlds ocean currents, and sitting atop coral reefs in even the most remote areas of the world. Although garbage dumped in the ocean may disappear from your sight almost immediately, it is definitely not gone.
So, what can you do while cruising Fiji waters?
Visiting yachts people can play a part in keeping fiji clean and beautiful.
Always try and use the formal garbage disposal & recycling facilities at Fiji's ports and marinas.
If you intend to cruise Fiji's more remote and less populated islands, remember proper garbage disposal facilities are unlikely to be available. Plan your provisioning accordingly.
Think carefully before accepting offers from local villages to dispose of your garbage. Pristine areas like the Lau group do not need more garbage.
Keep all plastics and batteries on board until they can be disposed of safely.
When first arriving into Fiji, familiarize yourself with the Bio Security requirements for onboard garbage disposal.
Always remember, your garbage is your responsibility.
Is it OK burn my garbage?
No. It is bad for you, your children and the environment. It is also illegal for you to do so in Fiji.
A regular garbage beach burn, particularly one containing any plastics, will create cancer causing dioxins and other toxins. It's all about the temperature of the burn. Unlike a modern industrial incinerator, garbage bonfires simply don't get hot enough. Ten pounds of garbage burned in an open barrel can produce as much air pollution as a modern well-controlled incinerator burning 400,000lbs of garbage per day.
The toxic pollutants can travel long distances and deposit on soil, plants, and in water. Animals and fish can ingest the pollutants, plants can absorb them, and they can be passed on to people when contaminated food is eaten. The poisons are persistent, meaning they accumulate in your body, in the food chain and may be passed on to the next generation.
Can I throw my garbage in the sea?
Under current international & Fiji legislation the only waste that can be dumped in the ocean from yachts is food waste, and there are very strict rules about the distance from land you can do this.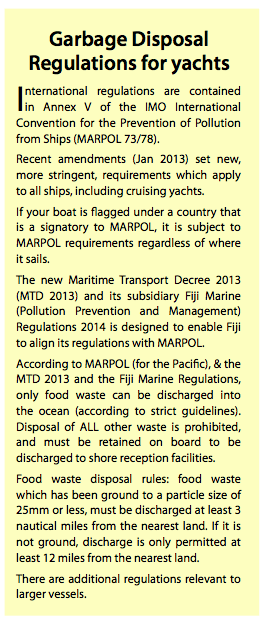 It's not very nice to do so and with current international and national regulations you may find you are breaking the law. Disposal of ANY plastics any- where into the sea is prohibited under both international regulations (MARPOL 73/78) and Fiji national law (Maritime Transport Decree 2013*).
Under international regulations, which may apply to your vessel, only food waste can be disposed of into the sea. Specifically, in the Pacific, discharge of non-ground food waste is only permitted 12 miles or more from land.
The Fiji Maritime Transport Decree 2013 states that any ship (including yachts) within Fiji waters may discharge food waste, paper, rags, glass, metal, bottles, and crockery if—
a) the garbage has been ground to a particle size of 25 millimeters or less; and
b) the discharge occurs at least
i. 3 nautical miles from the nearest reef system; and
ii. 0.5 nautical miles from any offshore installation or device.
You should also familiarize your- self with Biosecurity requirements before first arriving into Fiji.
*find The Maritime Transport Decree 2013 online at www.msaf.com.fj
How can I deal with my onboard garbage?
Before provisioning, consider the type and quality of garbage disposal facilities you will find in your cruising area & how you will eventually dispose of things; try to buy accordingly.
Take your own re-usable shopping bags when heading to the market.
Buy in bulk if you can.
Prior to setting sail, remove & dispose of (responsibly) all non-essential packaging.
Minimise the amount of plastic and non bio- degradable packaging brought on-board.
Be prepared to store your non-degradable and toxic garbage on board until you can reach a proper disposal facility (i.e. batteries, plastics, cans, tetra paks).
Consider investing in a large air tight container to store organic waste.
Before storing plastic and cans, wash first (salt water is fine), dry and then compact tightly.
Consider storing bags of garbage in the chain locker (outside boat yet protected from sun).
Reduce, re-use and recycle whenever you can.
How to recycle in Fiji?
You will find recycling bins at Vuda Marina, Port Denarau Marina, and the Copra Shed Marina which facilitate the segregation of waste and recyclables such as used batteries, glass, plastic, kitchen waste and paper and cardboard. Those items which cannot be recycled in Fiji are shipped overseas for processing by Waste Recyclers Fiji.
At Vuda Marina, Port Denarau and the Royal Suva Yacht Club you will also find waste oil collection containers in which you can pour any used engine oil. This is collected by Fletcher Steel and used in their foundry, preventing the oil from seeping into the groundwater from a landfill.
Waste Recyclers (Fiji) Ltd are willing to accept recyclables directly from you, our visiting yachtsmen and women, at their offices in Suva (Lot 26 Wailada Industrial Estate, Lami) or Lautoka (Bouwalu Street). They will accept: clean crushed aluminium cans, clean crushed tin cans, washed PET bottles, newspapers and cardboard. Call Amitesh on +679 992 1067 for more information.
Please support out recycling programs!